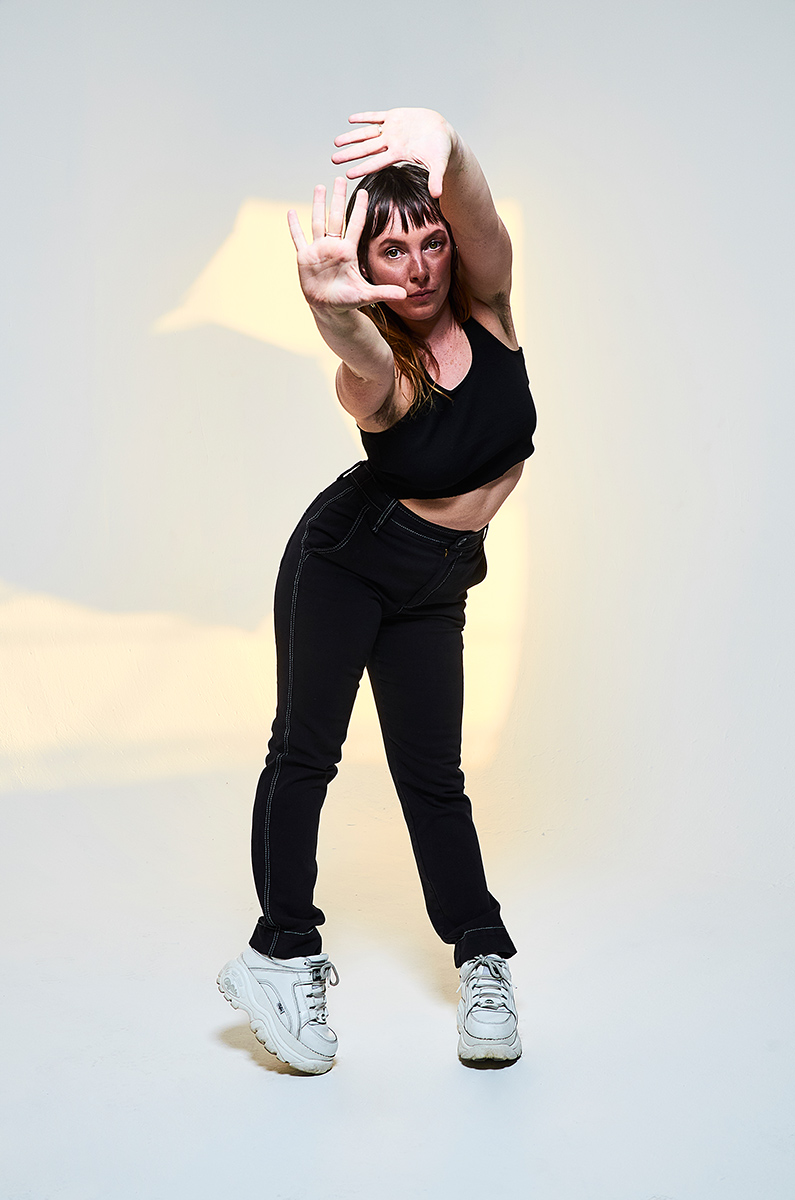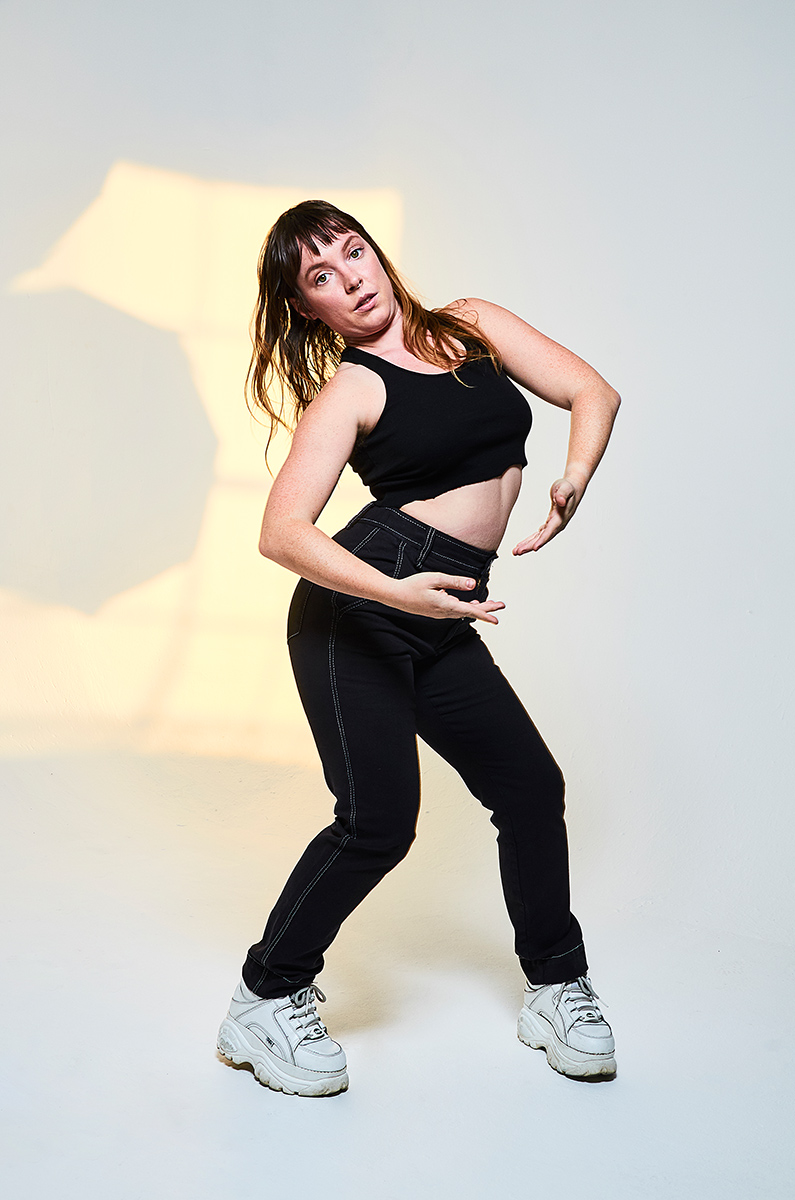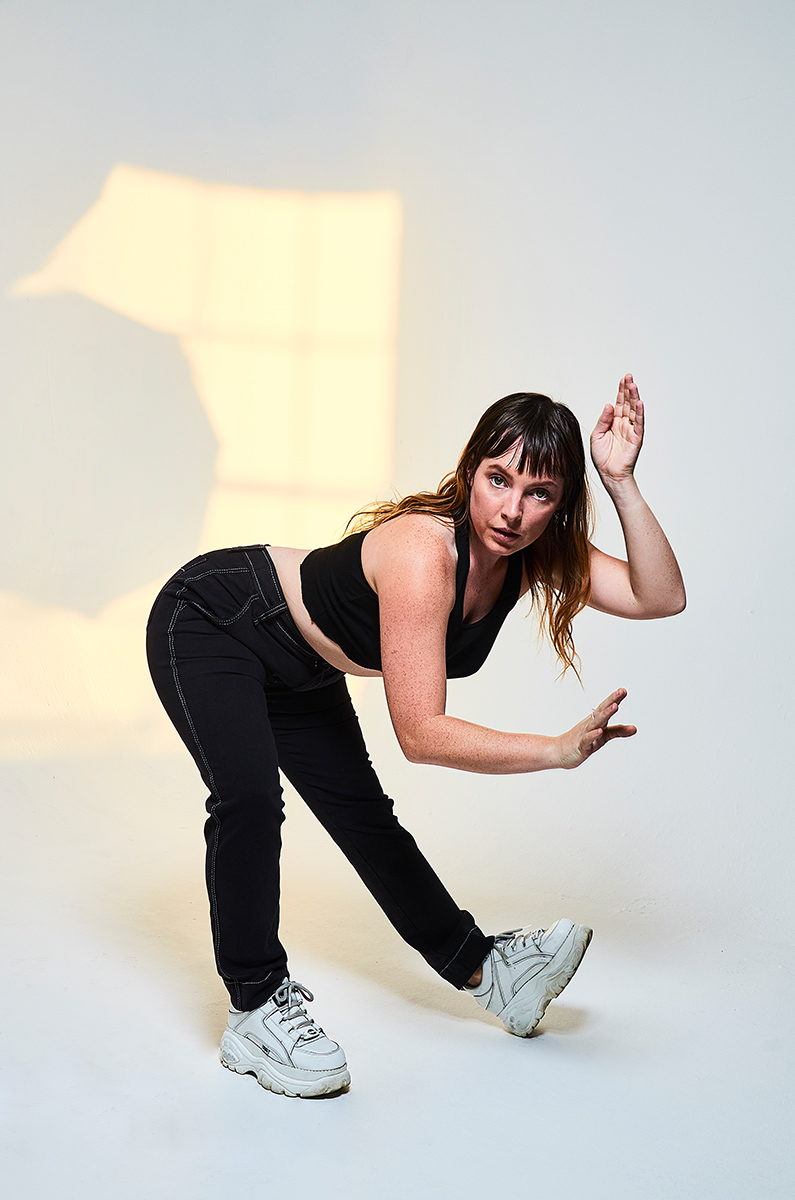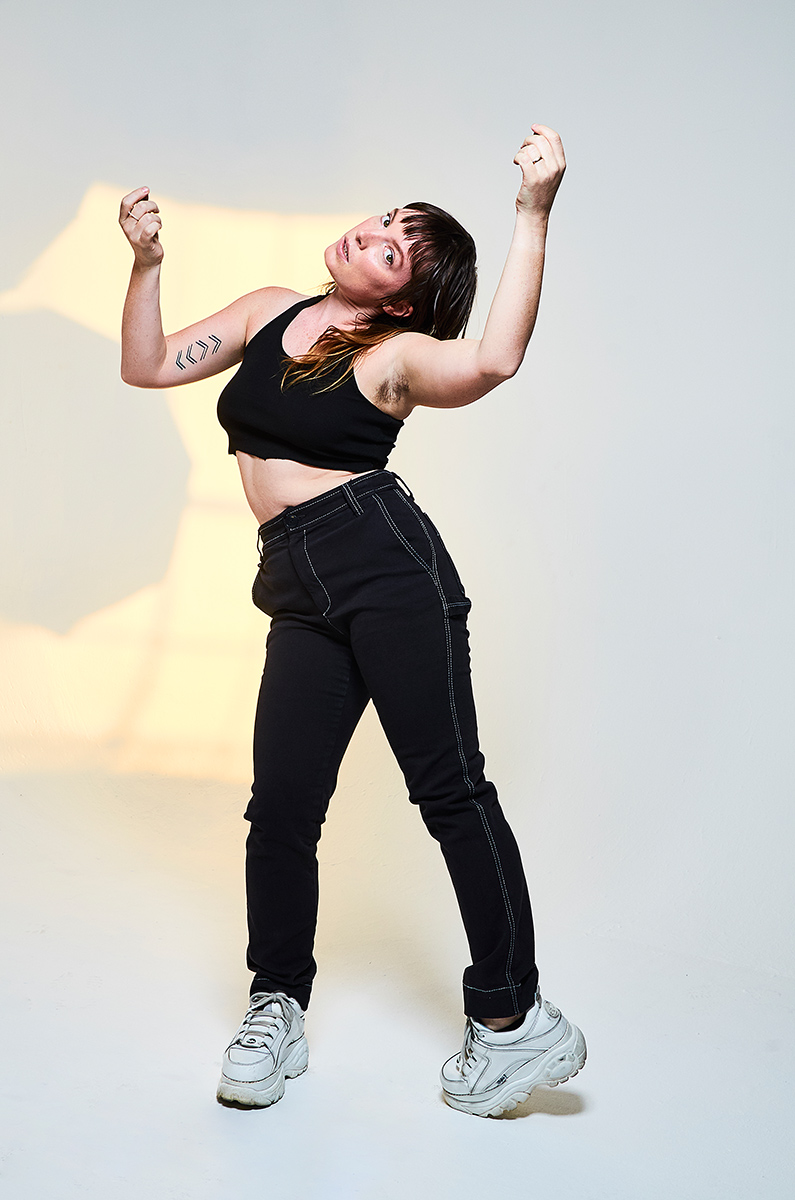 Amelia Meath
Interview by Maggie Rogers
Images by Jan-Willem Dikkers
Styling by Jessie Jamz
Hair & Makeup by Maki Hayashi
"If it's about the work then you just get to be yourself."
— Amelia Meath
Amelia Meath
Amelia Meath is an American singer, songwriter and musician. She is half of Grammy-nominated electro pop duo Sylvan Esso as well as Appalachian folk trio Mountain Man. Between both bands, Meath has put out a total of 4 full length albums.

Maggie Rogers
Maggie Rogers is an American singer-songwriter, musician and producer from Maryland who rose to fame in 2016 after Pharrell Williams praised her song "Alaska" during a filmed master class. She has two self-released albums The Echo (2012) and Blood Ballet (2014), and one studio album Heard It in a Past Life (2019). Rogers has appeared as the musical act on The Tonight Show Starring Jimmy Fallon and most recently Saturday Night Live.

Sylvan Esso
Sylvan Esso is an electronic pop duo comprised of singer and musician Amelia Meath and producer Nick Sanborn in 2013. Their 2014 eponymous album rose to 39 on the Billboard 200 chart, earning them a spot on The Tonight Show Starring Jimmy Fallon and at festivals like Coachella. Their most recent album, What Now (2017) earned a Grammy nomination for Best Dance/Electronic Album.

Mountain Man
Mountain Man is an Appalachian folk trio comprised of singers Molly Sarle, Alexandra Sauser-Monnig and Amelia Meath in 2009. Their music is often a capella or accompanied by sparse instrumentals. The band toured their debut album Made The Harbor (2010) with the likes of Jónsi and The Decemberists, and in 2012 they accompanied Feist as her backup singers on tour. The trio reunited in 2018 to create their second album, Magic Ship.

Feist
Leslie Feist, known professionally as Feist, is a Canadian singer-songwriter and multi-instrumentalist renowned for her solo career as well as being a member of the critically acclaimed indie rock group Broken Social Scene. Feist's impressive career began with guitarist and bassist stints in other bands, including Bodega and Peaches before releasing her debut album Monarch (1999) and joining Broken Social Scene in 2010. She has released a total of six albums as Feist, including 2007's The Reminder which became certified gold in the US and earned her four Grammy nominations including Best New Artist.

Neither Amelia Meath nor Maggie Rogers is a stranger to the magical mixture of talent and opportunity. Meath met the other two members of her breakout band, Mountain Man, as college students in Vermont. The trio's Appalachian harmonies were noticed by renowned artist Feist, who invited them on her international tour as backup singers. Rogers' career took an uphill turn when she performed her song "Alaska" for Grammy-winning artist and fairy godfather of music Pharrell Williams during a master class he was teaching at NYU.
Of course, all this serendipity would be meaningless without the leg work both women have put into their careers. Meath, by extensive touring as a solo artist between Mountain Man and her current electro-pop duo Sylvan Esso, not to mention the musical skills she's self-taught on the way. Rogers, by self-producing her first two albums as an 18 and 20-year-old prior to viral fame and her major-label debut, Heard It in a Past Life (2019).
Fresh on the heels of her album release, Maggie Rogers caught up with Meath who had also recently finished a reunion album with Mountain Man, Magic Ship (2018). They discuss road hobbies, songwriting and a shared appreciation for candles.



Maggie Rogers: Hi Amelia, how are you?
Amelia Meath: I'm so good. Thank you so much.
MR: Oh my gosh, thank you! When I got asked, "Do you want to talk to Amelia for 30 minutes about music?" I was like, "Yeah, definitely. I really would love to do that."
Where are you right now?
AM: I'm in Durham, North Carolina in the studio that Nick and I just bought in the country.
MR: Oh my god, congratulations.
AM: Thanks! It's on 10 acres. From what I can tell, a bunch of hippies got together in the '70s to build this place, and it all belongs to their relations now. But the vibe is still really nice.
It's this weird big old building with three outbuildings, which is why it's perfect for a studio. The house has a detached apartment with a separate door, so that's where I'm going to live. Then there's a building that used to be a woodshop, but it's basically the size of a four car garage with skylights and beautiful windows in it. We're going turn that into the studio.
MR: I know the first Sylvan Esso record was made in a studio, and the second one was made on the road. And the Mountain Man album has been made in various locations. Are there quintessential things that define creative space for you?
AM: I've been struggling with finding my creative space since I've started making records. It's always been really confusing because I'm not tied to an instrument. So usually my creative space is walking around outside because it's always embarrassing trying to be fully creative in front of others. I've gotten much better at it. At this point, Nick and I just hang out next to each other all of the time when we're working.
MR: Did you initially not make things in the same room?
AM: No, it was nice because we were making it in a house we were living in, or I was down the road at the time. He would be making beats, and I would be walking in and out of the house. I was usually sitting on the porch writing, then checking in on what he was working on. Now I play a much more of a producer role in what we do.
MR: It's interesting because something I think everybody in the world wants to talk to you about is duality. Your two projects fitting that definition so perfectly. But one of the first questions I really wanted to ask you is do you have any hobbies?
AM: Thank you so much!

"Working with other people and being exposed to their opinions inspired me. It's the same thing that drives me to want to perform…being seen and being able to talk about my feelings"
– Amelia Meath

MR: Because my goal is I need hobbies! I'm just in the clearing of the coming up for air after my hobby became my job. I guess I'm equally folding into the next cycle of work, but I'm trying to do so with a greater amount of balance and intention. So I've started asking all my creative friends about their hobbies and what activities fuel their creativity.
AM: That's a really good thing to be asking people. We've basically been on tour for five years. This is the first time that we have ever actually gotten to rest. But when I was on tour, I adopted a couple of hobbies.
I researched foraging mushrooms all of the time, learning how to identify them for an eventual time when I would get to be in the woods—which I will. I still haven't done it at all. But I know a lot more about trees and mushrooms now.
You know when you're cleaning up audio files in Ableton or Logic, and you're editing the scratch vocals? That work really pleases me. It's like comping, but it's after you've gotten the full comp of the vocals and are taking out the breaths.
I try to find stuff like that. Like recently I've been making—this is so dorky—I've been making pot holders for presents.
MR: That's amazing.
AM: It's also been good to settle back into writing time to Sylvan Esso. We've just finished with Mountain Man, and we knew the Magic Ship tour cycle was going to be super-duper light.
MR: Why was that?
AM: Because Sylvan Esso takes so much energy for me, honestly. And Mountain Man, in general, is such an intense project. We didn't know how well it was going to go, or if we'd like being on tour—me and Molly and Alexandra.
MR: But you guys had toured before, so was it a question of what it would be like to come back to that?
AM: Exactly. We were all babies at the time. We were 18 through 23.
MR: What was it like to leave that band and do something else? Did you feel a call to be at the front of the stage physically to express yourself in a different way?
AM: Mountain Man just really needed a break. We were all involved in the decision-making processes, but I was kind of the head cheerleader for making things happen for the band. I even managed the band until we got a manager, just to keep everything rolling along.
They really wanted to take a break and see if they wanted to do something other than music because basically from the moment we made Mountain Man on Myspace, we were getting a lot of attention on the internet and booking shows. We were driving from Vermont to New York to play shows. Then we were on our last tour, and Feist want to hire us to be her backup singers which was such a dream come true and enough money for us to pay off our student loans. Not only was it a huge opportunity for the band, but it was an amazing opportunity for us as human beings. So we took it, and by the end of that cycle everyone really needed to reevaluate what they wanted to do.
But I was all in from moment one. I was like, "Anything I can do to be singing and writing songs and performing in front of people, let me do that."
MR: You immediately felt the lifestyle of the road was the lifestyle that you were interested in? You never had any questions?
AM: Well, the lifestyle of the road it is all a means to an end. I just always knew that there was going to be so much sacrifice involved in order to be able to sing in front of people.
Slingshot Collective
Slingshot Collective is a volunteer, non-profit group whose publications have been based in San Fracisco since 1988. Together, they publish Slingshot, a quarterly independent radical newspaper, as well as the Slingshot Organizer, a radical calendar planner. The collective's disclaimer is that while all editorial decisions are collective, not all the opinions expressed within the group are shared.

Do you remember Slingshot organizers? They were like super dope anarchist queer Agenda Books. In the back of them were lists of radical bookstores and spaces. I used to book house shows by reaching out to those places.
MR: I do know what that is.

"It's kind of like editing out all the 'to be' verbs in an essay because the songs are all definitely about me."
– Amelia Meath

AM: I started booking Mountain Man's first tours out of the back of that organizer. So I was dirt dog touring for years. It was never a question of lifestyle, but more so, "How can I keep doing this?" In order to tour like that, you have to commit absolutely every part of yourself because it's so hard.
MR: What is the draw for you?
AM: I don't really know what keeps on driving me. First of all, every time I got the opportunity to perform musically it was within a group of people. I'm really not self-motivated enough, honestly, to be able to work independently other than the first little Myspace that I made for myself when I was a teeny teen.
But even then, working with other people and being exposed to their opinions inspired me. It's the same thing that drives me to want to perform in front of people. It's being seen and being able to talk about my feelings and to get people's feedback about the music we're making.
MR: I've noticed your music rarely seems to use personal narratives. Your songwriting voice is like an omnipotent narrator slash observer of culture and politics.
AM: I think it's really easy to write from a first-person perspective, so I try to give myself the challenge to not do that. But it's kind of like editing out all the "to be" verbs in an essay because the songs are all definitely about me. In the song "The Glow, " those people I'm listing are all people I went to highschool with.
With Sylvan Esso, we went into it wanting to make pop songs and actively thinking about that. I wanted the concepts to feel universal and to make songs people could identify with—which people are always going to do if your songs are resonating.
But I also think Sylvan Esso and Mountain Man really lived life in a different way than they do recorded.
MR: How so?
AM: Well, Mountain Man is a really punk band when you think about it. We're aggressively quiet in this way that freaks people out.
We were in Nashville for AmericanaFest, and we played for people who are used to drinking in the back and talking. It was like, "No, you have to be quiet because there are no microphones. You can't speak or everyone will know."
MR: How does that change the vibe of the show?
AM: It takes a lot of concentration because you have to be holding people for the entire time. You are already asking for an incredibly intimate thing, which is true anytime you do a show. But we were saying, "No, you have to actually watch us, otherwise you'll ruin the show for everybody."
In Sylvan Esso, the whole set is one huge song so it's the same kind of holding thing. We are taking you through this acrobatics of emotion until the end of the show where we'll put you down.

"We are taking you through this acrobatics of emotion until the end of the show where we'll put you down."
– Amelia Meath

MR: Do you think about energy work when you are performing or getting ready to perform?
AM: I don't do exercises in order to build my energy fields or anything like that. But while Mountain Man is about bringing everyone's eyes in, Sylvan Esso is about bringing everyone's energy as far out as possible and to make myself as big as possible.
MR: What is the main thing you get from playing live?
AM: Catharsis. Like the What Now tour felt so wonderful to do. Now is the time to truly be an entertainer in a different way because the world is so dark and everyone needs a break. People need to be reminded that there are safe spaces and there are spaces where you can feel joy together as a unifier. Touring in 2008 or 2011 didn't have that same feeling, whereas now when we do a show, we are really doing a service.
Or at least I was doing myself a service like, "We're in Oklahoma City! We're throwing a party right now!" Or, "We're in Houston, there was a flood here. We're going to donate the money from the show to relief and get everyone dancing and being in their body". It's super important.
MR: I've felt that way. I've found that the most conservative places—or cities I go to with a little bit of hesitation—are often the places that need the show the most.
AM: One hundred percent. You were just on an arena tour, right?
MR: Yes, with Mumford and Sons.
AM: Such a different thing to do an arena tour in America.
MR: Yeah, it's such a privilege to touch that many people and be in those rooms, but my career has gotten so big so quickly that it was interesting to be in arenas thinking, "I don't know if this is what I want."
What's most important for me is connecting and having a real moment with other humans. And the bigger it gets, it's hard to have that exchange in the same way. It was crazy because you get off stage at Madison Square Garden, and everyone is like, "Can't wait until you headline! Just give it a couple years!" But I don't know if that's what I want. I just want to make things.
AM: It's a super American way of thinking about a career.

"While Mountain Man is about bringing everyone's eyes in, Sylvan Esso is about bringing everyone's energy as far out as possible and to make myself as big as possible."
– Amelia Meath

MR: It's this capitalistic sense of, "If this gets bigger, and you want more…" I really want to feel more and learn more, but I don't know if that means more people or more tickets or selling that many more t-shirts. I would rather just make more things, and that might mean a different space.
Do you have a daily creative practice?
AM: Not yet. I gave myself December off.
MR: How did that go?
AM: Horrible, I was so freaked out. My best friend and I kept calling each other saying, "Vanquish the day!" just to keep the positivity up.
MR: What did you do to rest?
AM: I basically became a fitness professional. I was running and doing pilates and making pot holders and trying not to get angry at myself for thinking about work too much.
MR: Did you set boundaries?
AM: I kept on trying to, but someone would call and things would get in the way. For a while that made me really mad, and then I was like, "No, it's chill, it's fine." I realized I had to work a little bit.
And we got asked to do a cover for the credits of a potential show based off a comic book that I really love. It was a super intricate vocal song, so I got to just think technically. It inspired me for what to do whenever we get stumped. As we're working on this record, we can also be working on a Beach Boys cover or breaking down songs or learning Ableton better.
MR: Is there anything you've learned from resting that you're incorporating into this next record?
AM: As you know, when your hobby becomes the same thing you do for work, often the real work is getting out of your own way. So what I'm trying to do is carry restfulness with me through the process of making a new record.
Also, my Yankee sensibility just makes me feel like if you're not freaking out, you're not getting to something good. That just leads to being counter-productive. I used to think that if you get to do what you love for your job, then you probably shouldn't enjoy it.
MR: What!

"I really want to feel more and learn more, but I don't know if that means more people or more tickets or selling that many more t-shirts. I would rather just make more things"
– Maggie Rogers

AM: It's a punishment mentality like, "It's got to be really hard." I became aware of it in my brain while we were working on What Now.
Touring is really easy for me though. Give me as much information as possible and a touring schedule that is incredibly strenuous, and I'll be as happy as a clam. It's the hanging out and writing that makes me scared.
MR: I'm exactly the opposite. Sitting still and creating makes me so happy, and I have this really strong trust in my creative intuition. I'm also a lot younger though. I've been learning self-care and boundaries on the sly. I'll have to define those in quick moments of sleight of hand.
I made this record so much different than the EP because I missed being in a band. I missed that arrangement having breath and groove, whereas my EP was dance paced and locked into Ableton. I didn't feel like I was playing. I felt like I was regurgitating to a certain extent. And I think there's a middle ground in both actually.
AM: I super get that vibe. We use Ableton for all of our stuff, but Nick is so good at building beautiful flexible patches too that improvisation is super available to us whenever we want it.
Learning self-care on the road is a lifelong occupation. Not to mention, there is a built-in adrenaline lift in your day, and coming to terms with that when you are off the road is very strange.
MR: Yes, I almost don't trust my emotions on the road because I feel like I'm spending most of the time trying to unstick the adrenaline from the back of my bones.
Do you have any hot tips for self-care?
AM: I'll tell you what, I've gotten so dedicated to my skincare regimen.
MR: That's so funny. We recently hired a new monitor engineer, and he asked our band, "Is there anything you guys are really into collectively?" And my drummer just looked up from his plate of food and said, "Skincare?"
AM: It really helps! I'm also really into smells. On the Mountain Man tour I brought a fir candle. You just light it in the green room, and it's wonderful.
MR: Mine is a palo santo, blackcurrant combo!
I have one more question which is what do you want?
AM: I just want to make songs that discuss truth. From what I can understand, it's what makes songs good. When they are true, or when they are what you wish could be true. That's the thing that is driving me creatively. It's the bumper on my bowling lane making sure I don't lose the plot in this wild industry.
Particularly in pop, it's easy to get wrapped up in what is fun and sexy and cool and what makes kids buy t-shirts. But we need both things at the same time. We need things that are fun and sexy and true.

"It's not about the reception or career goals, but it's really about the work. And if it's about the work, then you personally remain intact in this really important way."
– Maggie Rogers

TLC
TLC is a best-selling R&B '90s girl group from Atlanta, comprised of Tionne "T-Boz" Watkins, Lisa "Left Eye" Lopes and Rozonda "Chilli" Thomas. The band released nine top-ten hits on Billboard and four multi-platinum records, including the diamond-certified album CrazySexyCool (1994). TLC has received four Grammy Awards, five MTV Video Music Awards and five Soul Train Music Awards.

MR: What's the TLC record — CrazySexyCool? Crazy sexy true.
AM: [laughing] What do you want?
MR: I don't know, and I think that's really quintessential to where I am right now. It's hard because I've been an incredibly focused and ambitious person my entire life.
I'm in the realm of dreams you don't say out loud. Dreams like SNL. I'm not scared, I just don't want to sound like an idiot. The fact that this is my current professional reality is like, "Whoa."
I think what I want is some time with my friends, maybe a hobby and to live a full life where I learn about a lot of different things. So I don't know if I want anything in particular right now, but it is really beautiful and freeing being open to whatever is coming my way.
AM: Fuck yeah, dude. It so hard, but it's nice that you're taking the time to actually figure that out.
MR: Action without purpose just feels like, "I can't do that." But maybe making some mistakes or going a little crazy would be good for me.
AM: In terms of going a little crazy, I highly recommend.
I had a similar feeling after being in Feist. It's a little different because I was in somebody else's project, but I got to see, "Oh, this could be my potential." And I'm there now. So with you holding up that mirror asking, "Is this where I want to go? Is this level what I'm looking for?"—it's so wonderful that you have that true perspective.
We haven't done SNL either. That is my main one right now too.
MR: I did SNL.
AM: You did?!
MR: Yeah, that is what I'm saying. It's fucking crazy. I did it in November.
AM: Congratulations! That's so dope.
MR: That's what I am saying is I don't understand what the fuck is happening. But I agree with you letting real true vulnerable creative thought lead the way and then letting everything else fall into place. Because then it's not about the reception or career goals, but it's really about the work. And if it's about the work, then you personally remain intact in this really important way.
AM: If it's about the work then you just get to be yourself.