Emma Dumont
Images and Video by Jan-Willem Dikkers
"I've always wanted to play someone who's really fierce
—a really strong woman who represents things that mean something to me."
— Emma Dumont
Emma Dumont
American actress, model and dancer Emma Dumont is best known for her roles on TV series Bunheads, Aquarius and The Gifted. She has also appeared in films such as True Adolescents (2009) and Inherent Vice (2014).
Bunheads
Bunheads (2012-13) is a comedy drama series starring Sutton Foster as a Las Vegas showgirl who finds herself teaching with her new mother-in-law at a ballet school. The supporting cast includes Tony Award winner Kelly Bishop, Bailey De Young and Emma Dumont.
Aquarius
Set in 1960s Los Angeles, Aquarius (2015-16) is a semi-fictional American period crime drama series centering on the rise of the Manson Family and their murders. The show stars David Duchovny as a fictional LAPD detective in search of a runaway teenager (Emma Dumont) only to come face-to-face with Manson's tribe.
The Gifted
The Gifted (2017-) is a FOX series based on Marvel Comic's popular X-Men franchise. The series stars Stephen Moyer and Amy Acker as parents who take their family on the run after realizing their children's mutant abilities. The supporting cast includes Emma Dumont, Jamie Chung and Sean Teale.
A native of Seattle Washington, the multi-talented Emma Dumont began her career in ballet at age three and her acting career at age 12 with a role in Mark Duplass' True Adolescents (2009). A year later, she added modeling to her resume as the winner of V Magazine's 2010 "V A Model" contest, signing a contract with the prestigious Ford Models. In 2012, Dumont received a supporting role on ABC Family's Bunheads and has gone on to procure pivotal character roles in series such as Aquarius and FOX's new X-Men series, The Gifted. Dumont discusses playing her dream role, her ongoing love of the spotlight and what it means to use your voice for social change.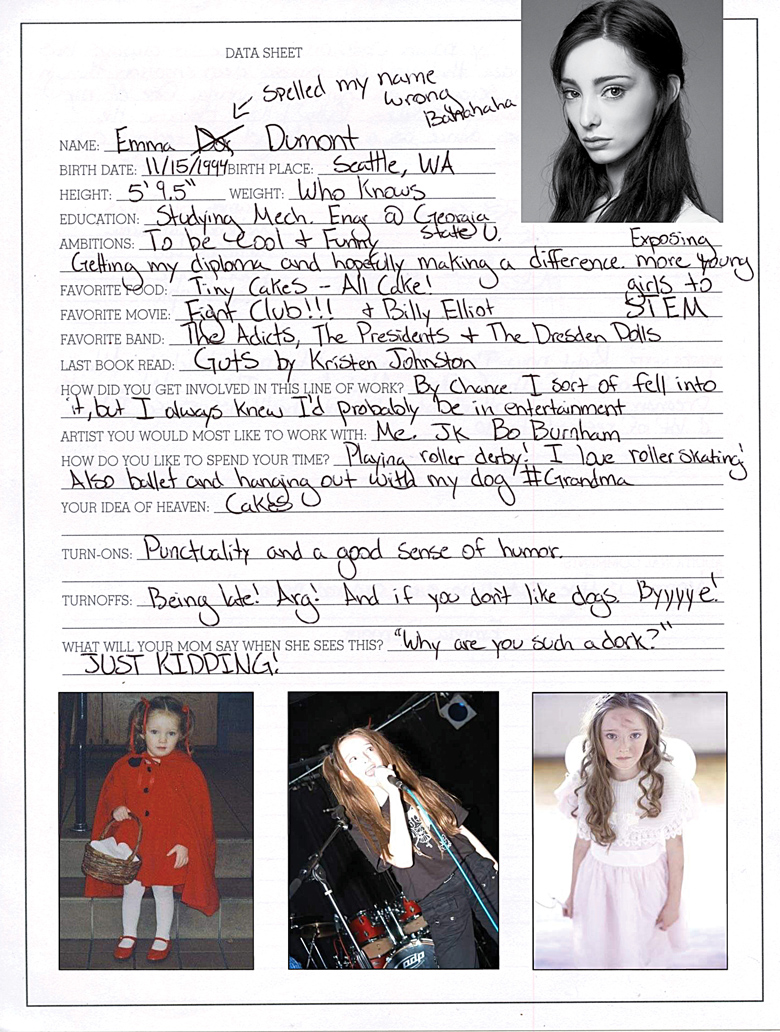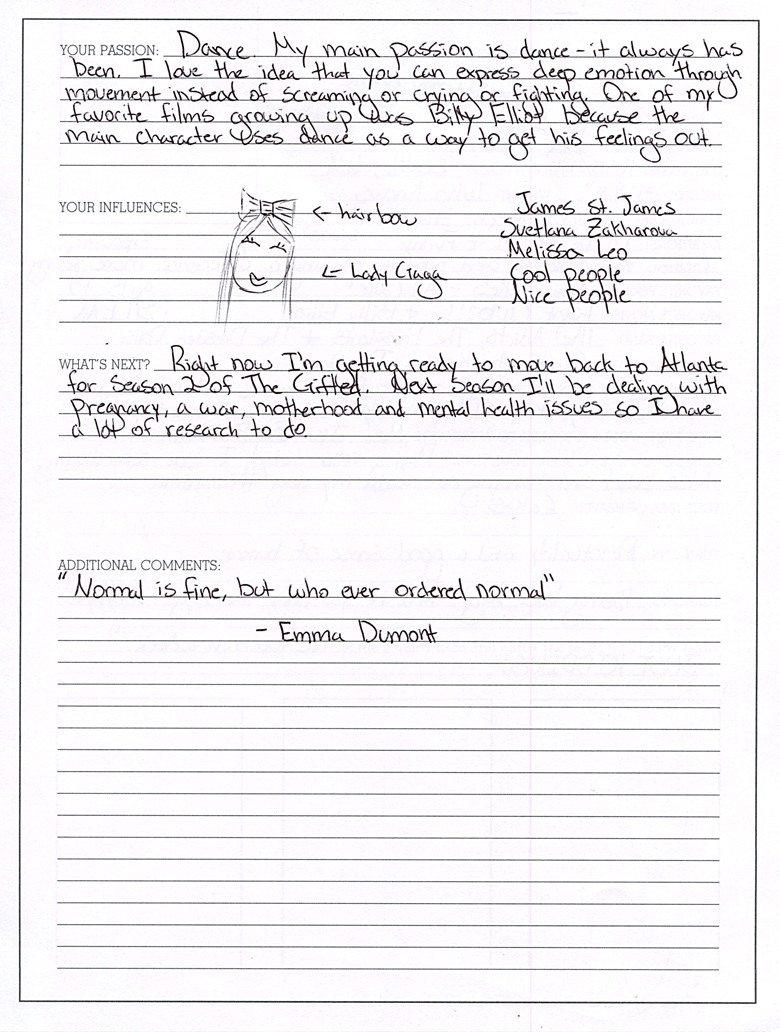 Where are you from?
Seattle, Washington. I grew up under the rain cloud.
Education:
Studying Mechanical Engineering at Georgia State University.
Ambitions:
To be cool and funny. To get my diploma and hopefully make a difference, expose more young girls to STEM subjects (science, technology, engineering and math).
Favorite food:
Tiny cakes … all cake!
Favorite band:
The Adicts, the Presidents of the USA and The Dresden Dolls.
How do you like to spend your time?
Playing roller derby! I love roller skating. Also ballet and hanging out with my dog, Grandma.
Your passion:
My main passion is dance—it always has been. I love the idea that you can express deep emotion through movement instead of screaming or crying or fighting.
And what was your first break?
I grew up doing theatre and classical ballet. My first job in LA was Bunheads, a super quirky show about ballerinas.
What have you been in?
I did a show about Charles Manson and cult life in the late '60s and early '70s, and now I'm working on a new X-Men show for FOX and Marvel called The Gifted. I'm playing Magneto's only birth child, his daughter Polaris.
How do you feel about this career?
This industry is so interesting, and the career of an actor is very specific. It's a lifestyle you really have to choose and you really have to want because you give up so much—your family, your friends—and you're traveling a lot. But it's really fulfilling because you're making stuff that hopefully means something to you and might change people's lives.

"It's not enough to just think a thought. Make yourself heard and stand up for people who can't stand up for themselves."
— Emma Dumont

How did you decide to become an actor?
I don't know if I ever decided to be an actor. I kind of fell into doing screen work. But I always loved theater, and I always knew I wanted to be a performer because I love to make people laugh. I need a lot of attention. Let's just say that.
How would you describe your specialty or type?
I don't know if I have a type. I'd like to think I'm a ingénue, but the truth is I'm probably not. I've acted since 15 years old, and now I'm playing 29 years old, so I've played a whole range of characters in just a few years. I've played nice girls, rich precious angels, and I've played badass refugees. Tall? My type is tall.
Melissa Leo
American actress Melissa Leo is best known for her television career in the '80s and '90s, including All My Children (1970 – 2013) and Homicide: Life on the Street (1993-99). Leo later moved to film, earning an Academy Award for her role in The Fighter (2010) and a nomination for Frozen River (2008).
Who's your favorite actor you look up to?
Melissa Leo, because I never recognize her in any role she's in. From one movie to the next, I can't tell it's her. Sometimes I'll be an hour into a film, and I'll be like, "Oh my gosh! That's Melissa Leo! I had no idea!" She's such a chameleon and such a badass.
What would your ideal job be?
I've always wanted to play someone who's really fierce—a really strong woman who represents things that mean something to me. Honestly, I'm kind of doing that right now, which is crazy. I'm always telling my mom, "I don't think I could have written a role better than the role I have right now" which is Polaris. She is a soon-to-be-mother and suffers from bipolar disorder. She's really strong and fierce but also sensitive, and that's sort of always what I wanted. The show is really cool because it represents the political climate right now and being a minority and what that means and hate crimes and bigotry.

"Everyone knows everything about everyone… People I meet know me and know who my friends are, and I've never met them before."
— Emma Dumont

Do you consider yourself to be lucky?
I definitely consider myself lucky. I get to go to work every day, do what I love with people I love. My first job I got to act and do classical ballet, which are the two greatest loves of my life. I get to be in school right now and study engineering while I'm acting. I have a lot of opportunities that a lot of people don't have. I'm super blessed.
Would you rather have a car or diploma?
A diploma. You can walk anywhere, right? They always say what's in your head is what no one can take away from you. Knowledge and education are the most important thing. Especially in this country, it's so readily available to the general populace.
What do you think about the need for instant gratification?
That's a heavy topic, especially with my generation and younger generations because of technology and the way it's advancing. It's moving and growing exponentially, and people want it now. They want it in their face. Our attention spans are getting shorter. If you watch TV shows from even 15 years ago, there are fewer commercial breaks. We could watch for longer periods of time because we could stay engaged. And now we want it now, and we want it fast. I don't know if that's a bad thing. I think we're just changing with the times, and we want to feel good when we want feel good. There are negatives and positives to everything.

"You can text someone a thousand times, and you still don't know who they are. You don't get to feel their energy and intertwine yourselves."
— Emma Dumont

How do you feel about how interconnected the world is becoming?
It's crazy. Everyone knows everything about everyone, which is really scary sometimes. People can find out everything about you because it's online, on the web and on social media. People I meet know me and know who my friends are, and I've never met them before. But it's also cool. I have friends who live in Spain and Brazil, and I get to talk to fans all over the world because of the way the world is connected now. It gives us opportunities to have friends and learn about cultures that we wouldn't have known about before.
What does the future look like to you?
There are so many amazing things in the world, specifically in this country, and there are so many horrible things. But people are speaking up for themselves and using their voices if they're blessed to have a voice. I think the future means we're able to bring up more issues and support minorities and causes that have been pushed under the rug and told to be quiet for so long. So the future looks awesome, I hope.
How do you feel about having children?
Kids are a lot of work. I just got a dog, which is nothing like a human child, but even that's so difficult. Just being responsible for forming a human's life, thoughts, skills and talents and making sure you support them and figure out who they are is so insane and inspiring. I'm excited to have kids, whether I have my own kids or adopt. Seeing a human being grow into a full person is probably the most insane, miraculous thing in the world. I'm really excited.
What challenges do you feel the world is facing today?
A lot of social injustice. There's a lot of hate and bigotry and horrible things right now. We need to represent minority groups a lot better. In this world, I'm a white girl with white privilege, and I'm blessed with a voice. I have somewhat of a platform because of the industry I work in, so at every opportunity I use my voice for those who have been silenced. It's not enough to just think a thought. Make yourself heard and stand up for people who can't stand up for themselves.

"They always say what's in your head is what no one can take away from you. Knowledge and education are the most important thing."
— Emma Dumont

What are you most grateful for?
I grew up with just my mom and me, and she is my biggest support system. She gave me everything, even when she had nothing. I'm most grateful for her. I'm sure everyone says that, but it's the truth.
What is your favorite way to communicate?
Just a conversation. Sitting in a coffee shop, getting to know someone. There's nothing like the adrenaline and vibes and connection you get from one-on-one conversation. You can text someone a thousand times, and you still don't know who they are. You don't get to feel their energy and intertwine yourselves.
What's your favorite book, film, and music right now?
I love the book Fight Club, and I love the film Fight Club. I've read the book over 20 times. I could probably perform it right now if I had to. I really want to see Lady Bird. I love Saoirse Ronan. I'm listening to a lot of The Presidents of the United States, a band that I used to go see with my mom in Seattle. They would perform at our block parties.
What's next?
Right now I'm getting ready to move back to Atlanta for season two of The Gifted. Next season I'll be dealing with pregnancy, a war, motherhood and mental health issues, so I have a lot of research to do.


›› ISSUE Feature: Fashion Series & Interview with Emma Dumont circa Aquarius
›› ISSUE Feature: Fashion Series with Emma Dumont by Rainer Hosch