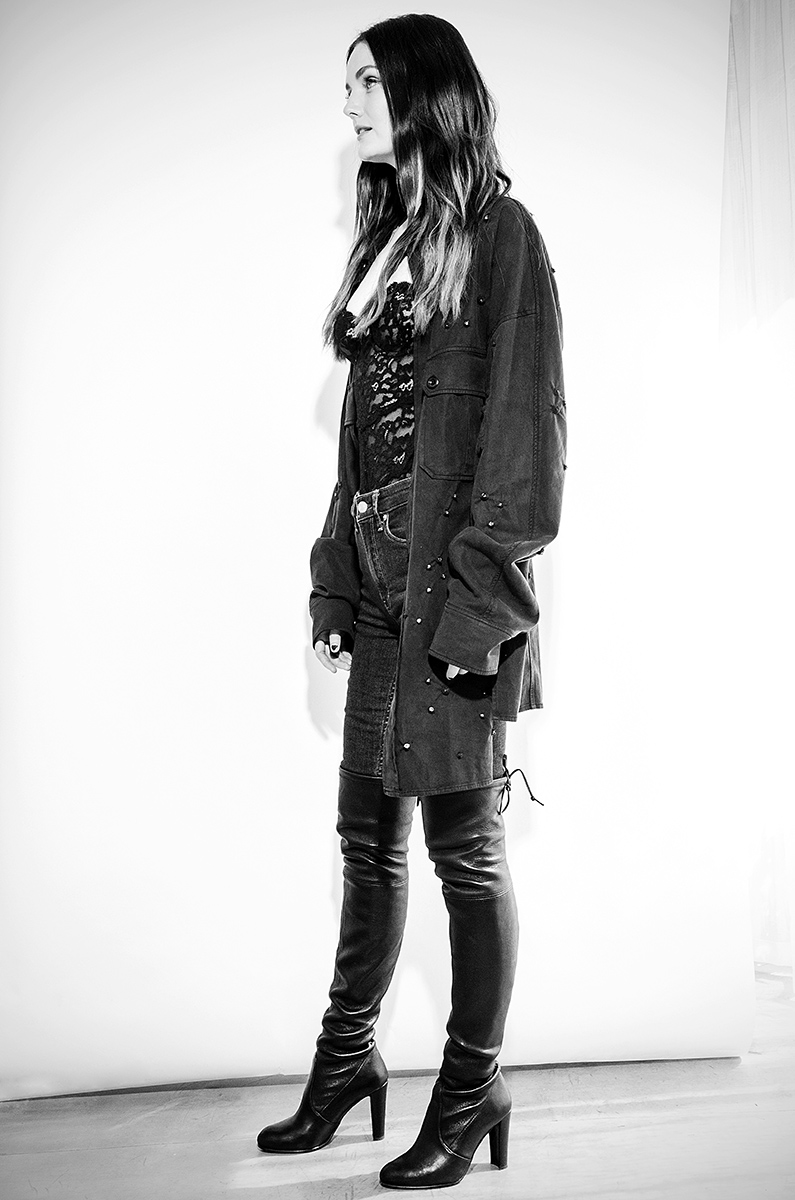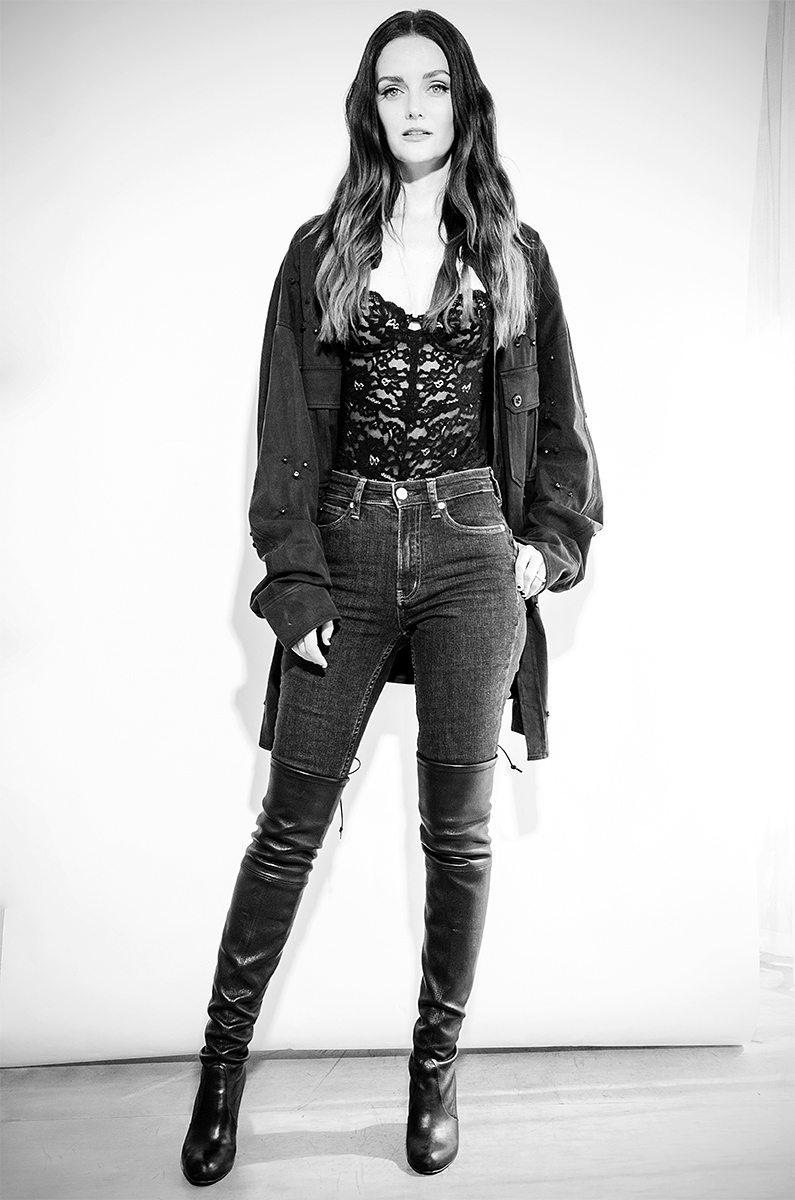 Lydia Hearst
Images and Video by Jan-Willem Dikkers
"I'm a bit of a chameleon so you can change my hair,
makeup, eye color, everything and I transform.
I look like somebody else, I become someone else,
and that is why I love this job."
— LYDIA HEARST
LYDIA HEARST
Lydia Marie Hearst-Shaw Hardwick (b. 1984), is an American fashion model, actress and lifestyle blogger. She is a great-granddaughter of the newspaper publisher and politician William Randolph Hearst, and the daughter of Patty Hearst. She was discovered by photographer Steven Meisel who shot her first magazine cover for Vogue Italia in April 2004. Hearst covered fashion magazines in Italy, France, Korea, Japan, Latin America, and the United States. She has also appeared in the films #Horror (2015), Two For One (2016) and TV series Gossip Girl (2009) and South of Hell (2015).

THE HAUNTING OF SHARON TATE
The Haunting of Sharon Tate is a 2019 American horror thriller film written and directed by Daniel Farrands. It stars Hilary Duff, Jonathan Bennet, Lydia Hearst, Pawel Szajda, and Ryan Cargill. The film portrays real-life actor Sharon Tate, who was murdered by the Manson Family Cult in 1969, and the apparent premonitions that plagued her before her death. In February 2019, the film won three awards from the Hollywood Reel Independent Film Festival. Daniel Farrands won the award for Best Director, Duff won the award for Best Actress for her portrayal of the titular character and the film won Best Horror Film.
With a seriously major modeling career already under her belt, Lydia Hearst is now growing a pretty substantial acting career to boot. The Connecticut native recently played the wife of Nicolas Cage in the film Between Worlds, and starred in SyFy's hit series Z Nation. Now she's about to star opposite Hillary Duff in Daniel Farrands's horror The Haunting of Sharon Tate. We chat to Hearst about making it big in fashion, cult director John Waters, and why she's so good at dying on-screen.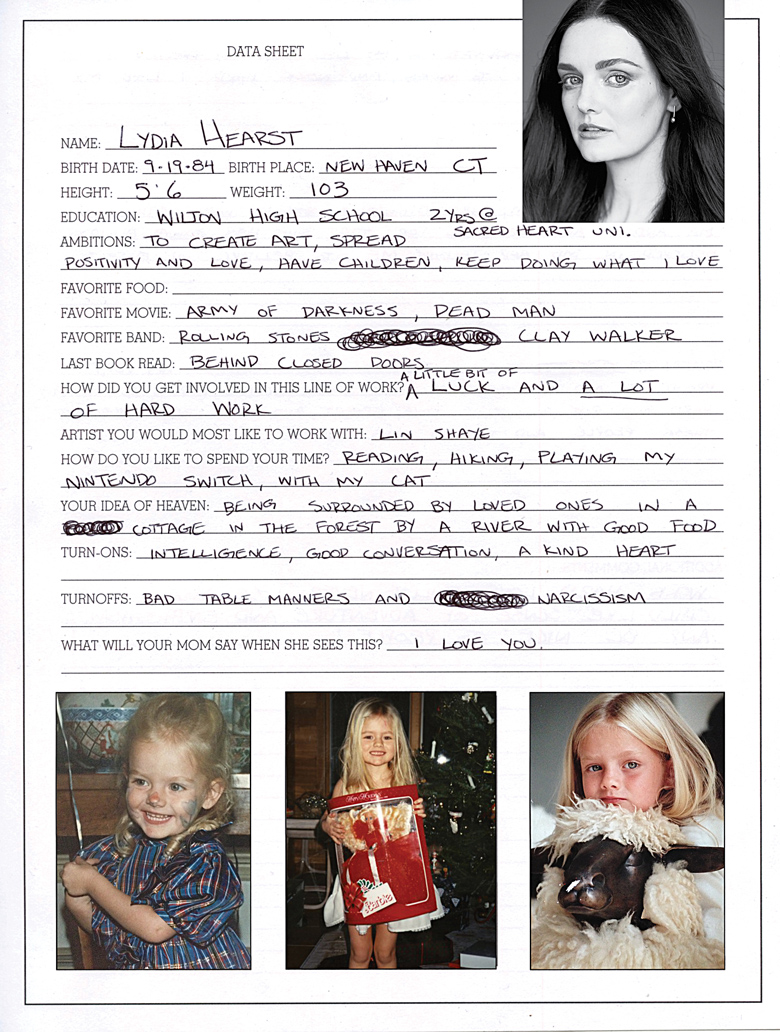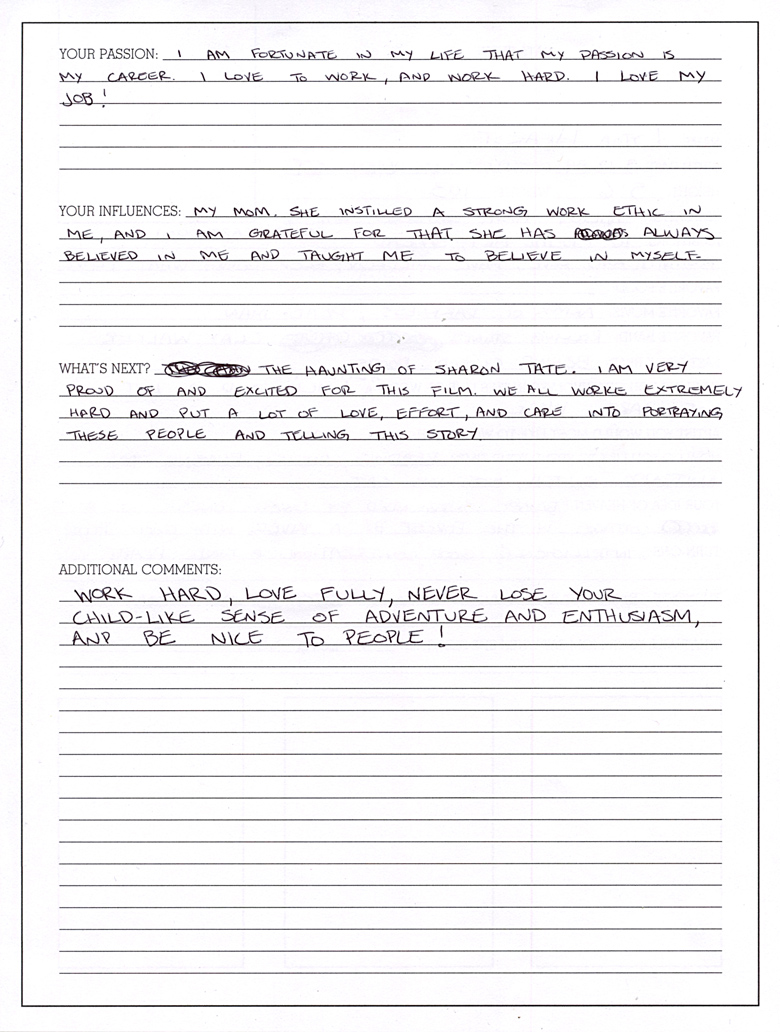 Where are you from?
I was born and raised in Wilton, Connecticut.
Education:
Wilton High School, then two years at Sacred Heart University.
Ambitions:
To create art, spread positivity, have children, and keep doing what I love.
Favorite movie:
Army of Darkness, Dead Man.
Favorite band:
Rolling Stones, Clay Walker.
Last book read:
Behind Closed Doors by B A Paris.
How do you like to spend your time?
Reading, hiking, playing my Nintendo Switch, being with my cat.
Your idea of heaven:
Being surrounded by loved ones in a cottage in the forest, by a river, with good food.
Turn ons:
Intelligence, good conversation, a kind heart.
Turn offs:
Bad table manners and narcissism.
What was your first break?
My first break was in fashion. The cover of Italian Vogue shot by Steven Meisel in April of 2004.
What have you been in?
In fashion, I was extremely fortunate, I got to do a little bit of everything. I worked for Vogue on multiple editorials and covers. I traveled the world: London, Paris, Milan, Tuscany, a lot of time in New York, and now Los Angeles. I was the face of so many campaigns it was incredible. Most recently for Equinox gyms, where I was double breastfeeding baby dolls. Film-wise I'm a huge fan of the horror genre and I've been extremely fortunate enough to play a lot of really unique and different characters—and I die a lot.
How do you feel about this career?
I love the fact that I get to play dress up and make believe all day every day, and I love what I do. I love every second of it.

"I remember visiting my mom on the set of the John Waters film Cry Baby. The costumes and the makeup…and it was all so over the top. I knew that was a world that I wanted to live in."
—Lydia Hearst

How did you decide to get into acting?
I have always wanted to be an actor. When I was a little girl I remember visiting my mom on the set of the John Waters film Cry Baby. There were the costumes and the makeup…and it was all so over the top. And the music. I knew that was a world that I wanted to be in and live in.
It was a fairy tale and a dream come true and I'm really lucky that is my life. That is what I get to do for work, I play dress up and I play make believe.

"I guess I die really well because I die a lot. I have a really good scream."
—Lydia Hearst

How would you describe your specialty or type?
I guess I die really well because I die a lot. I have a really good scream, I guess. My specialty is that I change a lot. I'm a bit of a chameleon so you can change my hair, makeup, eye color, everything and I transform. I look like somebody else, I become someone else, and that is why I love this job. I get to tap into different aspects of my personality and take on challenging characters and roles and literally transform myself.
Who is your favorite actor you look up to?
There are so many actors that I admire. Anthony Hopkins is definitely one of them. He is so unbelievably talented and incredible. Gary Oldman, and also Lynn Shay—I think she's one of the greatest female character actresses of all time.

"I'm really fortunate that I get to be a character actor, because I like to step outside myself and not just be me."
—Lydia Hearst

What would your ideal job be?
I don't even know if that character or role has been written yet. I just want to keep working for as long as I possibly can and do what I love, and play as I play these characters and transform. I think I'm really fortunate that I get to be a character actor, because I like to step outside myself and not just be me. It's a lot of fun.
Do you consider yourself to be lucky?
I think I'm extremely lucky, yes. It is hard work, especially when you start out in this business. It's 99 per cent rejection and so you just have to keep plugging away, you have to keep working hard, you have to keep believing in yourself and have thick skin. If you believe in yourself, that's the best gift to you and eventually things will work out.
What advantages do you have?
I don't know if I have any advantages, but I have a very strong work ethic and I think that's really helped me get to where I am today.
Would you rather have a car or a diploma?
Well, I don't have a diploma and I have a car ,so I guess that. I have a high school diploma, not a college one.
How do you feel about how interconnected the world is becoming?
I love that social media has connected people from all over the world and given a voice to everyone, and I think it's really remarkable. But at the same time I think people have to remember that words can be weapons, so choose your words wisely. Say what you mean and mean what you say. It's important to build bridges and make friends and you only get one life so be nice to people.
What does the future look like to you?
I have no idea what the future holds, but I have to believe it's going to be bright, beautiful and positive and hopefully one day I'll have a family.
How do you feel about having children?
I really want to have children, not right this second, but in the next year or two I think I'm going to start trying.
What challenges do you feel the world is facing today?
I think there are always challenges that the world is going to face. I think there is a lot of environmental challenges and there is a homelessness issue especially here in Los Angeles that I think really needs to be addressed and confronted and people need help. I'm inspired every single day with the people and the friends that I have in my life who want to help work towards change and positivity. Especially in the fashion industry, people want to use their voice and their efforts to make fashion more sustainable and to help find people homes.
What are you most grateful for?
Being alive. I'm just grateful to be here and to be alive and to have good positive people in my life and a strong family and support system and to just do what I love.
What is your favorite way to communicate?
I talk a lot so that would probably be my best and favorite way of communicating.
What is your favorite book film and music right now?
For books, I'm really into reading psychological horror or thriller novels. There is one book that I just finished reading called Behind Closed Doors. It's really messed up, it's very psychological and I loved every single minute of it. If you are into that type of genre book read it.
My favorite film of all time is Army of Darkness. I grew up on that movie. To me that is just perfect, it's fun, as a true lover of horror, and of course Bruce Campbell. I love it.
Music really depends on the kind of mood that I am in. It could be a random country song and Taylor Swift. It could be Nelly or Dr. Dre. It could be Led Zeppelin. Honestly, I love it all, it literally depends on how I wake up that morning and what I'm feeling.