Marianna Palka
Director, screenwriter and actor Marianna Palka is from Glasgow, Scotland. Her critically acclaimed films include Good Dick (2008), The Lion's Mouth (2014), and most recently, Bitch (2017). She currently stars in the ensemble cast of the Netflix series GLOW (2017).

Born in Glasgow, Scotland, Marianna Palka moved to New York at 17 to study at David Mamet and William H. Macy's Atlantic Theater Company. Palka went on to receive the New Director's Award at the Edinburgh Film Festival for her debut film Good Dick (2008), which she wrote, directed, and starred in. She has since worked on a variety of short films, including a personal documentary about Huntington's disease, and stars as a female wrestler in Netflix's hit series GLOW (2017). Palka wrote, directed and stars in her newest film, Bitch (2017), a dramedy about a woman who snaps under life's pressures and assumes the psyche of a dog.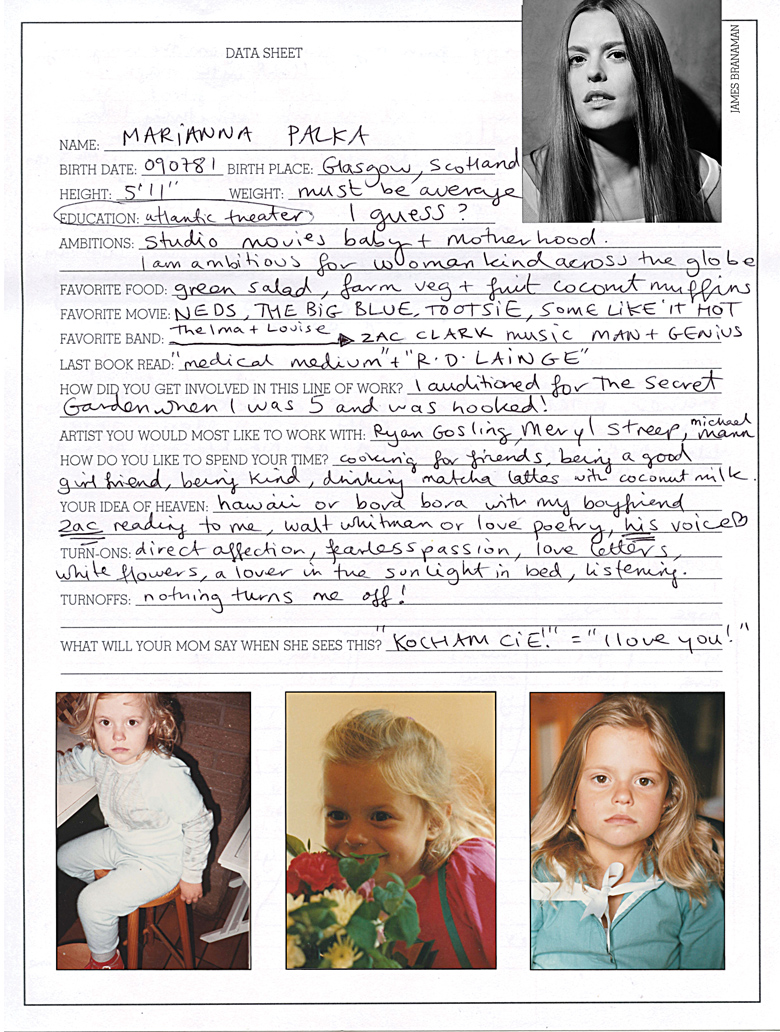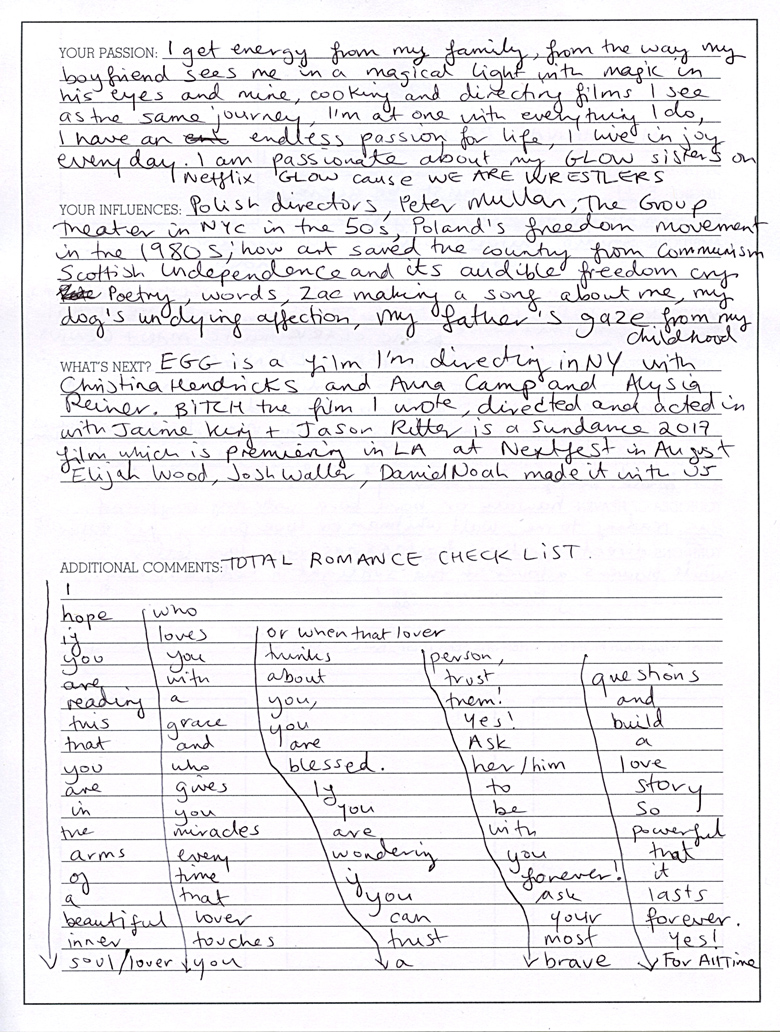 Birthplace:
Glasgow, Scotland.


Ambitions:
Studio movies, baby, and motherhood. I am ambitious for womankind across the globe.


Favorite Movie:
Neds, The Big Blue, Tootsie, Some Like It Hot, Thelma & Louise.


Turn ons:
Direct affection, fearless passion, love letters, white flowers, a lover in the sunlight in bed, listening.

"My mother never made me think about
what I looked like from the outside.
She made me think about who I am inside
and how to be a great person."
— Marianna Palka



Turn offs:
Nothing turns me off!


How do you like to spend your time?
Cooking for friends, being a good girlfriend, being kind, drinking matcha lattes with coconut milk.


What was your first break?
Directing Good Dick—the film that went to Sundance when I was really young—and writing, producing and self-releasing it. We really got to go all out with that movie. It went around the world. It was amazing. I'm very proud of it.


What have you been in?
Peter Mullan's Neds, which is a really important film about Scottish youth. It's a backroynm: Non-Educated Delinquents, and it's kind of a swear word in Scotland, so quite a provocative title. That movie was fabulous. I've been in Scottish Mussel, a conservationist comedy directed by Talulah Riley. And also Girls. I played Jessa's sister, and I gave Adam [Driver] my root chakra as part of the movie. He was like, "Whoa." Why did I say "movie"? It's a TV show but felt like a movie. Everything feels like a movie.