McCaul Lombardi
Images and Video by Jan-Willem Dikkers
"I felt like I could do it better than some of the actors I was watching.
It was just a confidence thing so I took the leap of faith."
— McCaul Lombardi
McCaul Lombardi
McCaul Lombardi is an LA-based actor from Baltimore, Maryland. He has appeared in the 2017 films American Honey and Patti Cake$ and currently stars in Matthew Porterfield's drama Sollers Point (2018).

American Honey
American Honey is a 2016 British-American road film written and directed by Andrea Arnold, starring Sasha Lane, Shia LaBeouf and Riley Keough. The film follows a teenage girl from a troubled home who runs away with a traveling sales crew selling magazine subscriptions door to door. The film won the Jury Prize at the 2016 Cannes Film Festival.

Sollers Point
Sollers Point is a 2017 American-French drama film, written and directed by Matthew Porterfield and starring McCaul Lombardi, Jim Belushi and Zazie Beetz. It tells the story of a small town drug dealer re-entering a community scarred by unemployment, neglect, and segregation.

Patti Cake$
Patti Cake$ is a 2017 American drama directed by Geremy Jaspar and starring Danielle Macdonald, Bridget Everett, and Cathy Moriarty. The film centers on aspiring white female rapper Patricia Dombrowski as she faces obstacles on the journey to fame and fortune.

McCaul Lombardi made his first big splash in the film industry last year, with roles in two notable films: Andrea Arnold's prize winning American Honey and Geremy Jasper's evocative Patti Cake$. Having quickly proven his versatility on screen in what he would call "mean guy" roles, Lombardi plays a more sympathetic character in his first starring role, in independent filmmaker Matthew Porterfield's Sollers Point, in theaters now. He portrays a young drug dealer fresh out of prison and under house arrest in Baltimore who seeks a new place in his low-income, segregated community. Lombardi, who really is from Baltimore, discusses how he felt compelled to act, his work ethic, and how he hopes today's interconnectedness will lead to a more honest society.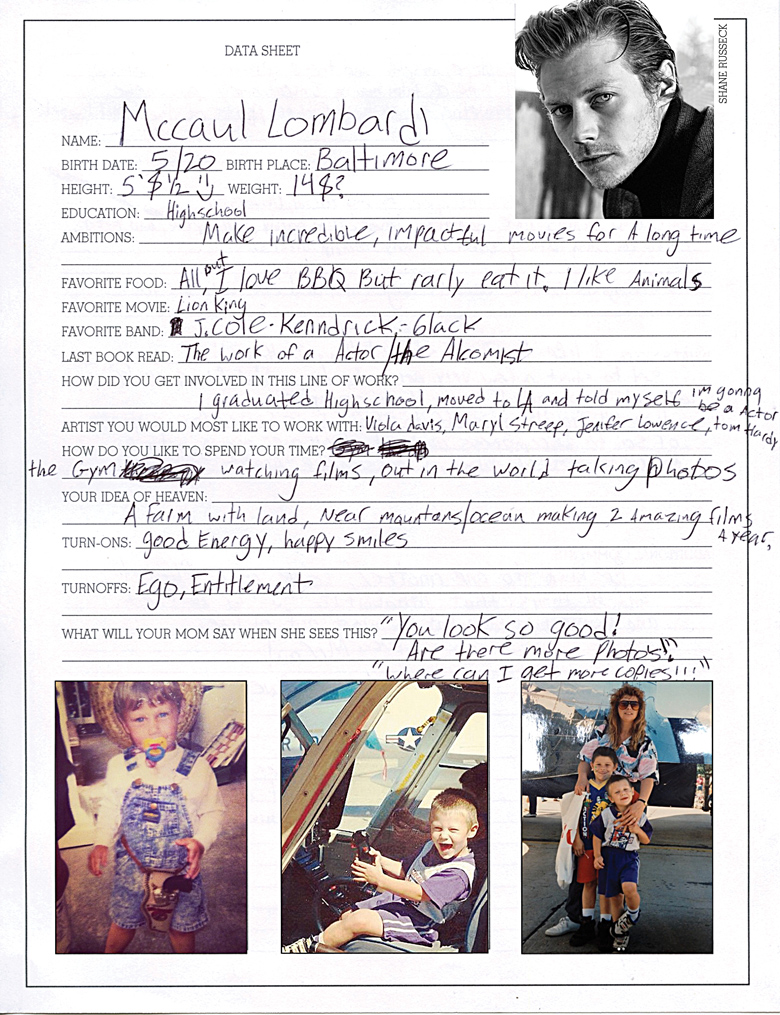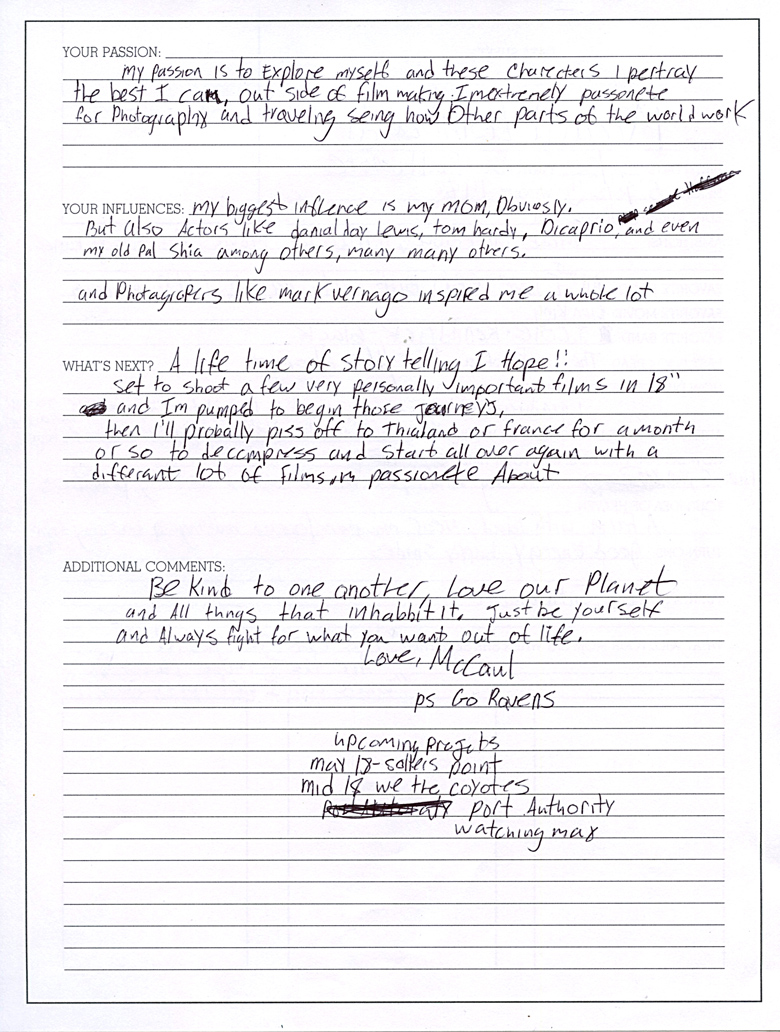 Where are you from?
I was born and raised in Baltimore, Maryland.
Education:
High school.
Ambitions:
Make incredible, impactful movies for a long time.
Favorite food:
I love barbeque but I rarely eat it. I like animals.
Last book read:
The Work of an Actor by Michael Woolson.
Your idea of heaven:
A farm with land, near mountains or the ocean, making two amazing films a year.
Turn-ons:
Good energy, happy smiles.
Turn-offs:
Ego, entitlement.
Your influences:
My biggest influence is my mom, obviously. But also actors like Daniel Day-Lewis, Tom Hardy and Leonardo DiCaprio.
When did you get your first break?
My first break would technically be American Honey with Andrea Arnold, about three years ago.
What have you been in?
I started with American Honey, then I moved on to a film called Sollers Point. But before that I did a film called Patti Cake$ that Fox Searchlight picked up, and it did the festival circuit starting at Sundance. Now I'm on to a few other projects.
How do you feel about this career?
It's an interesting one. Nobody can really prepare you for acting and the acting industry, especially living in Los Angeles, but it's cool. It's all a blessing, to say the absolute least. It's definitely a trippy industry to be in.

"Everybody can be lucky if they handle themselves and everything around them in the proper way."
— McCaul Lombardi

How did you decide to become an actor?
A few ways. Growing up, I didn't do any theater in school, but that was more so because of where I grew up and the stereotype around guys acting in high school. I didn't even really give it a shot until the age of 18, when I decided to move to California, join a little acting studio, and learn to put my walls down. I knew that I had it in me to portray other people in a way that wasn't myself. And watching films and seeing and feeling like I could do that—quite frankly, I felt like I could do it better than some of the actors I was watching. It was just a confidence thing so I took the leap of faith.
How would you describe your specialty or type?
In my first three films I was typed as the "the mean guy"—the guy that's been through a lot who's always trying to fight. People are used to me either fighting somebody or getting into a fight in a gas station. But I'm switching that up with some softer characters that people haven't seen yet. I have some cool characters coming out that are more on the softer side, and I'm excited people will see some more of a range from me.
Who is your favorite actor you look up to?
I love my Daniel Day-Lewis. I strive to be a man like that, who can completely indulge himself into a character and escape from everybody and remain that in-depth throughout the whole process of filming a project. I love my Tom Hardy films. He's incredible. I'd love to have that career as well.
I've recently fallen in love with Joseph Gordon-Levitt. He's very underrated, but he's very versatile. I like to watch a film and not really realize it's that person. Those are my favorite actors, the ones who you can never tell who they are from project to project.
What would your ideal job be?
I want to keep switching up my projects like I'm doing, especially with the one that I'm filming this summer. I'm not staying in the box that I feel a lot of actors get comfortable being in. I like to push my limits and go outside of my comfort zone.
Goals: I want to do like a period piece war film, but that's just one of many things. I'm open to a good project with a good character with a challenging, in-depth personality to portray.

"I'm interested to see how the world is going to operate when everybody's calling each other out, hopefully for the good."
— McCaul Lombardi

Do you consider yourself to be lucky?
Luck is an interesting word because without hard work and dedication, luck ain't going to do you nothing. You could be a lucky person your whole life, but if you're not ready for that moment when luck comes around, it's just a missed opportunity. So I am lucky, but I've also worked myself to death to be in the position to be lucky. Everybody can be lucky if they handle themselves and everything around them in the proper way.
What advantages do you have?
I have a killer manager. I have a really good team of people that really care for and love me, who are looking out for my best interests.
Would you rather have a car or a diploma?
I'd rather have the diploma! I have a high school diploma, but a college diploma would be pretty cool. Maybe going back to school is an option… I say that, but I like my car a lot. Get the diploma, then get yourself a car.
What do you think about the need for instant gratification?
The need for instant gratification is detrimental because it's becoming a thing, especially with Instagram, where everybody is looking to post something of interest and get that instant "you're doing something good." There's bigger stuff to worry about right now than being cool. I think being different is going to start being the new cool.
How do you feel about how interconnected the world is becoming?
There's positives and negatives to the way people are so integrated. I can post a photo of a landscape, and I have people commenting on it from New Zealand, Australia, Japan, Thailand and England, in a matter of seconds. It's insanely awesome that you can get your ideas across so quickly. I also like it because now people can't hide anything. You can't lie anymore, and it's becoming more of a real, in-your-face world.
What does the future look like to you?
What does the future look like for me? Successful. Happy.
I feel like a lot of people are getting a lot of shit for everything going on, but I feel like the things going on right now in the world are going to bring us together. I'm excited for the next 40 years of my life, or however long I live, to see how the world will change with social media because, again, this generation is so connected. We'll call your bluff. I'm interested to see how the world is going to operate when everybody's calling each other out, hopefully for the good.

"I like to watch a film and not really realize it's that person. Those are my favorite actors, the ones who you can never tell who they are from project to project."
— McCaul Lombardi

How do you feel about having children?
I want them badly! I'm 26 and everybody's like, "Just wait!" I guess I need to find a wife first. I feel like I'd be a great dad. I just don't know how having kids would be with being an actor and being on the road.
What challenges do you feel the world is facing today?
Accepting ourselves for who we are, in an age of Instagram models and Kardashians. We have young women that feel like they have to change their appearance to be accepted or wanted by men, when that's the furthest thing from what it should be.
True and False: Heresy and Common Sense for the Actor
True and False: Heresy and Common Sense for the Actor is an instructional book on acting by Pulitzer Prize winning playwright, film director, screenwriter and author David Mamet. In it, Mamet outlines his thoughts on the life and habits of the successful actor and gives advice for those practicing the craft.

Mudbound
Mudbound is a 2017 American period drama film directed by Dee Rees and written by Rees and Virgil Williams, based on the novel of the same name by Hillary Jordan. It stars Carey Mulligan, Garrett Hedlund, Jason Clarke, Jason Mitchell, and Mary J. Blige and depicts two World War II veterans – one white, one black – who return to rural Mississippi to address racism and PTSD. It was nominated for four Academy Awards, including Best Supporting Actress and Best Cinematography.

I think we're facing an Instagram addiction period. You can't go anywhere without people on their phones posting or live-streaming. [Those companies] are collecting millions and we're just being sucked into our phones, not gaining anything but tips on beauty and how to be "cooler."
What are you most grateful for?
It's so generic, but I'm so grateful for my family. I'm really grateful for my manager. He's put me into a lot of really good positions and let me grow as an actor. I'm just grateful. I'm thankful for health, for a good mind. It's all perspective.
What's your favorite way to communicate?
Definitely through texts. I like to think about responses before I respond.
What's your favorite book, film and music right now?
Book: David Mamet's True and False is a book I keep with me at all times. Favorite film right now? I'll say Mudbound just because it didn't get Oscar love. I went for the world premiere of that at the AFI Fest, because my film Stollers Point premiered there too. I didn't even know anything about Mudbound, and it blew me away. Music: I've been really into the SZA album and the Black Panther album with Kendrick and SZA and Khalid.