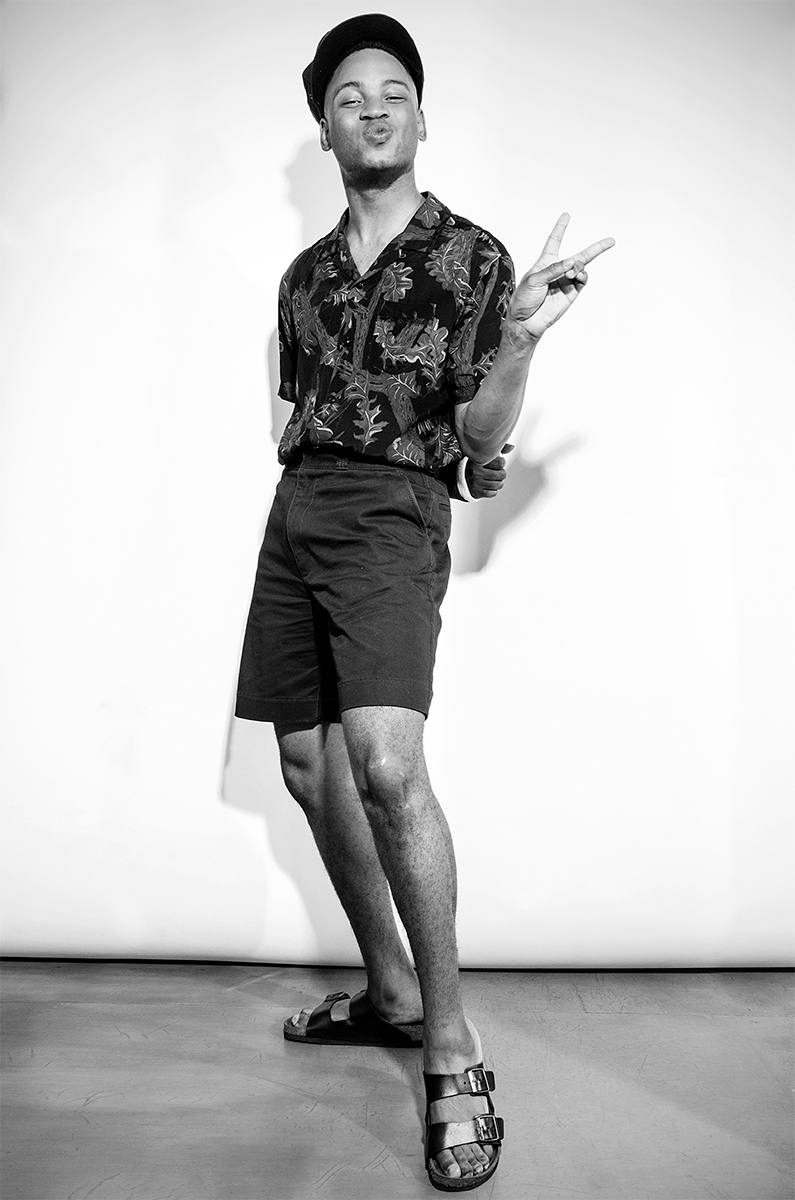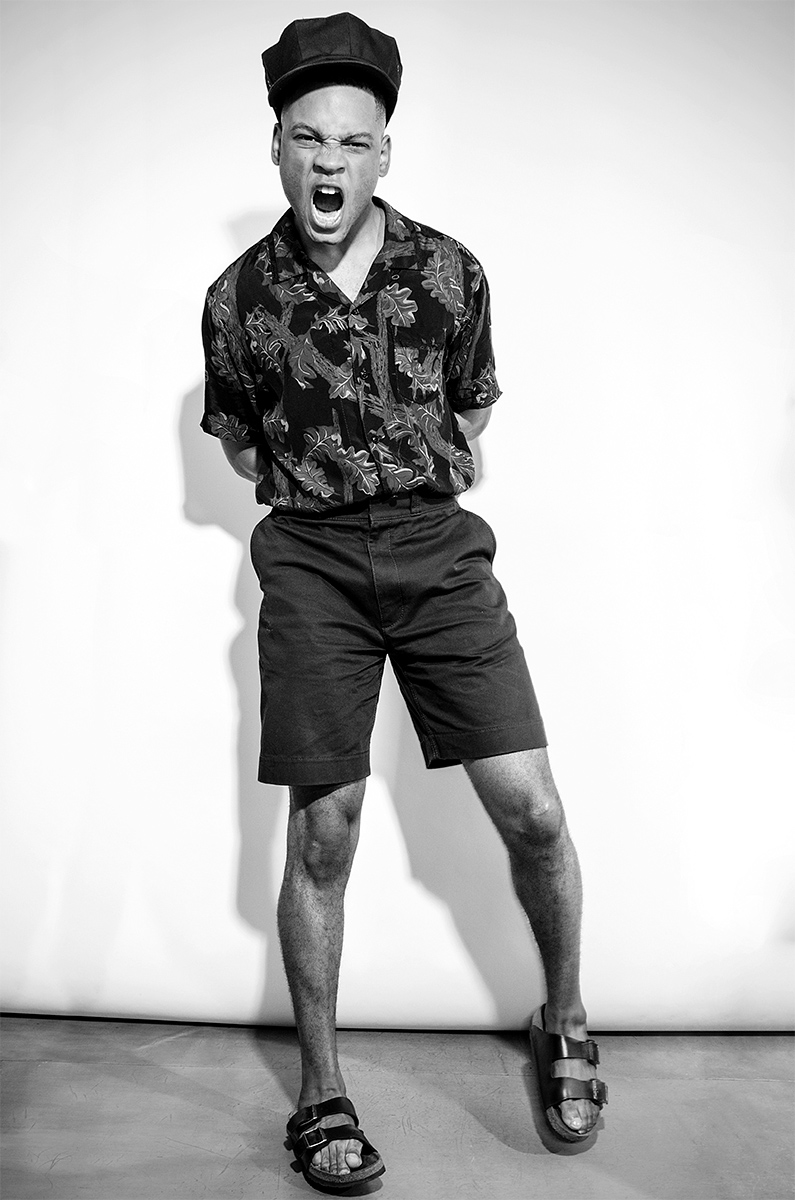 Ryan Jamaal Swain
Images and Video by Jan-Willem Dikkers
"The future is all the marginalized and ostracized people
getting their dues and getting their rights.
The future looks bright and is colorful."
— Ryan Jamaal Swain
Ryan Jamaal Swain
Ryan Jamaal Swain is an actor, singer, and dancer from Birmingham, Alabama. He trained at Howard University and the British American Drama Academy in Oxford, UK and has performed in numerous theatrical productions including Six Degrees of Separation and Thoughts of a Colored Man. Swain plays Damon in FX's new series Pose (2018-).
Pose
Pose (2018-) is a drama series created by Ryan Murphy starring Ryan Jamaal Swain, Kate Mara, MJ Rodriguez, and Evan Peters. Set in 1987, the show explores the lives of LGBTQ members of the New York City ball community, as well as the rise of the luxury Trump-era.
Ryan Jamaal Swain graduated from college and moved to New York only a year and a half ago, booking the role of a lifetime shortly after. He stars in Ryan Murphy-created FX series Pose (2018), a musical drama that delves into the 1980s ballroom world and New York social scene. Swain plays Damon, an aspiring dancer from Allentown, Pennsylvania who moves to New York City after being kicked out of his home for being gay and joins a self-selected family that provides him with the love and support he'd never received before. Drawing parallels to his own life, Swain feels connected to Damon's ambitious spirit. He spoke with us about working his dream job as a performer, having a supportive family, and his optimism for the future.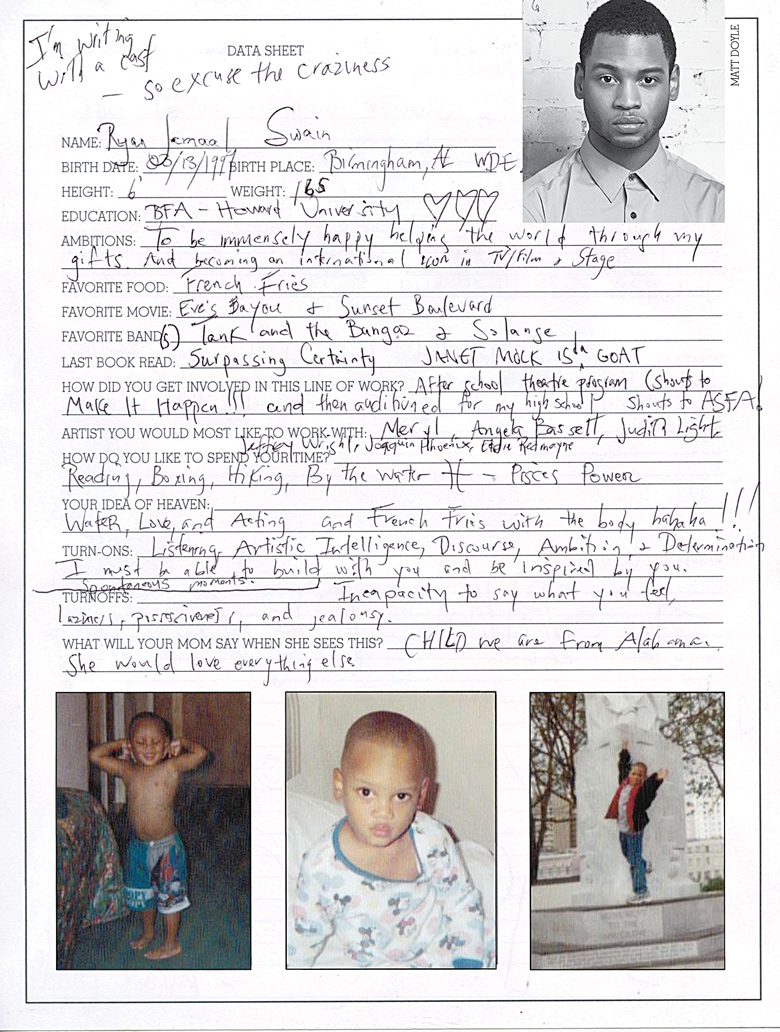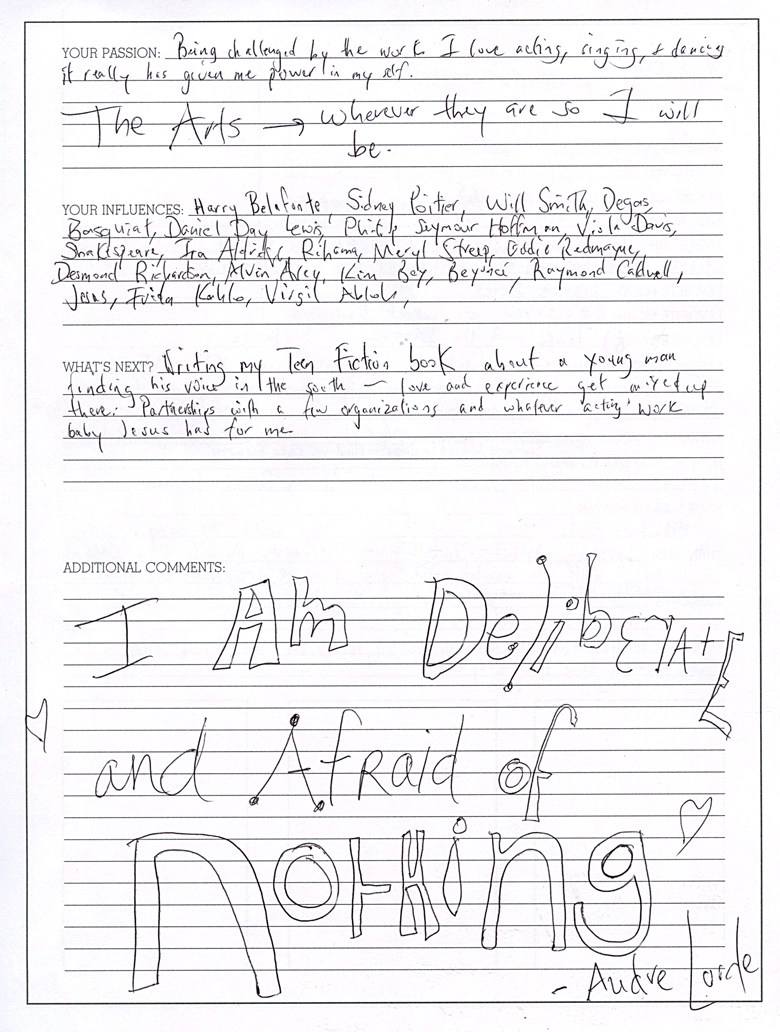 Where are you from?
I'm from Birmingham, Alabama. I was born in Orlando, Florida, but I moved to Birmingham when I was six.
How do you like to spend your time?
Reading, boxing, hiking, by the water. Pisces power.
Turn ons?
Listening, artistic intelligence, discourse, ambition, and determination. I must be able to build with you and be inspired by you. Spontaneous moments.
Turn offs?
Incapacity to say what you feel, laziness, possessiveness, and jealousy
What was your first break?
The piece that I'm in right now. This is my first TV thing, first anything. I did off-broadway before. I came from Washington DC, graduated from Howard University, and moved to New York immediately. And here we are: on a new show by Ryan Murphy. So that's pretty dope.
Tell us more about the show.
Pose takes place in the 80s, and it's this space where individuals that are the most marginalized and ostracized from love, find love in New York City with their chosen families. The show takes place during the emergence of the Trump era and the ballroom scene, and what happened with people of color. People try to figure out how they're going to move and position themselves in the space where they aren't wanted. So the show is all about family, all about love, all about unity and a good time. I mean there's voguing in it. You have dancing, all these beautiful costumes, people singing. It's a really good time.

"I'm here to serve, and I'm hopefully serving through my art."
— Ryan Jamaal Swain

How do you feel about this career?
If one thing is for sure, it's that I was brought here to do what I'm doing— acting, singing, dancing, and performing. There's a lot of sacrifices, but anything that's worth having is not going to be easy. And anything worth keeping is not going to be easy. Acting and performing, and just the arts, have really opened me up to unearth who I am. I love to help people through my work. I'm here to serve, and I'm hopefully serving through my art.
How did you decide to become an actor?
It happened in ninth grade. I was going to public high school and had been training to become a professional tennis player. Immediately after I got into the public school, they had this after-school drama program. I was like, "Okay, cool. I've always wanted to do drama." And sure enough, I found my niche. It was like a fish to water. Through that, I auditioned for the performing arts high school in my home state of Alabama, and the rest is history.
There are things that you cannot hide from or run away from, and performing is one of them. I thought I wanted to be an anesthesiologist, thought I wanted to be an archeologist. All of those occupations starting with an "a," and then I thought, "Okay, 'actor' is next." And here I am. Doing the thing, living the dream.

"The protagonist who has something to prove, the underdog who has this insatiable thirst and hunger for something. That's me."
— Ryan Jamaal Swain

How would you describe your specialty or type?
Definitely a dreamer. Definitely somebody that is optimistic and has a deep well of traumatic things that have happened to them, but through all of those things, has moved forward and pressed on and found light within themselves. So everything about superheroes. The protagonist who has something to prove, the underdog who has this insatiable thirst and hunger for something. That's me.
Sidney Poitier
Sidney Poitier is a Bahamian-American actor, director, author, and diplomat. In 1964, he became the first black actor to win an Academy Award and Golden Globe for Best Actor for his work in Lilies of the Field (1963). He has directed a number of films, and was awarded the Presidential Medal of Freedom by President Obama in 2009.
Who's your favorite actor you look up to?
Oh wow. Jeffrey Wright, Harry Belafonte, Joaquin Phoenix, Meryl Streep. I look for people that transform. When I see them in a show or film, I don't know it's them. That's essentially what I hope to do and will do. Sidney Poitier… There's been a lot of people. Eddie Redmayne is the most current.
What would your ideal job be?
Pose has been such an amazing project and ideal dream that I haven't really looked forward to the next thing. I think a space in which I can perform and also tell stories with a lot of social change that are going to help the community. So whatever that is, from activist movies or biopics about activists or a superhero—or a dancer moving from Allentown, Pennsylvania and coming to New York. I'm doing my ideal job.
Do you consider yourself to be lucky?
I consider myself to be lucky and blessed. I moved to New York a year and a half ago, and I've had experiences in this abbreviated time that a lot of people don't attain for 10, 15, 30 years. I'm on national television telling a necessary story with an amazing young man who is teaching me how to become more free, more open, more loving.
What advantages do you have?
I was born with a level of discernment and also the advantage of a supporting family. My family is all healthcare specialists. I'm the only artist, and they were like, "We don't know what that is, and we're just going to support you anyway." Being wrapped in that love has really set me off to live my wildest dreams and do what I want to do. Those are my advantages: discernment, determination, and my family.
Would you rather have a car or a diploma?
A diploma is invaluable. I think the reason I got my job is because of my university and with how much passion I spoke about Howard University. It's the place where I found "me." You can use those tools in a lifetime.
What do you think of how interconnected the world is becoming?
I feel good about that because as a universe, as a human race, the things that make us different are our superpowers. Merging with all of these mother nations and seeing there's so much beauty in what makes the United States of America and what makes the world—we are united.
My show Pose is really doing that work. We see people we might not necessarily identify with. We might not be LGBTQ or part of that community, but there's this common thread of family, seeking love, and wanting to be loved. We're becoming so interconnected that it's turning into a melting pot of beauty, culture, love, and passion. Let's continue to do that, especially with this Trump administration. We are all here. We're not segregated. We are integrated.

"The future is all the marginalized and ostracized people getting their dues and getting their rights. The future looks bright and is colorful."
— Ryan Jamaal Swain

What does the future look like to you?
The future is female. The future is people of color. The future is all the marginalized and ostracized people getting their dues and getting their rights. The future looks bright and is colorful.
How do you feel about having children?
When I have a child, that's it for me. I love children so much, and I love my siblings. I'm the eldest of four, so I know I would just zone in on that kid and make sure they have all the opportunities that I was and wasn't afforded. That's why I'm not having any right now, because there will be a time—20, 30 years from now—that I'll be able to give them the world. And that's the point.
What challenges do you feel the world is facing today?
We have so much to give, and we all have different skill sets. The political climate, universally, is asking us to ostracize ourselves. I think that's our obstacle, not giving into that negative place, but instead tapping into what makes us who we are. I pray, I chant, and I meditate on those things that we need because that's going to take us to the next level.

"When somebody has a great dream, a great passion inside of them—and they're not given a chance to express that—you've killed the person."
— Ryan Jamaal Swain

What are you most grateful for?
I'm most grateful for the opportunity to live, be happy, and follow my dreams. When somebody has a great dream, a great passion inside of them—and they're not given a chance to express it—you've killed the person. So having this opportunity where I'm in line with my purpose, that's what I'm most grateful for. The people, the experiences that have shaped me, the trials and tribulations, all of those things. I'm extremely grateful because if it weren't for them, I wouldn't be all of who I am and who I'm becoming.
Surpassing Certainty
Surpassing Certainty (2017), transgender activist Janet Mock's second memoir following New York Times bestseller Redefining Realness (2014), follows Mock through her twenties as she adjusts to life as a first-generation college student, navigates dating and sex, and builds a career in the New York City publishing world.
H.E.R.
Gabriela Wilson, better known as H.E.R. ("Having Everything Revealed"), is an R&B singer from Vallejo, CA. She has released two EPs with RCA Records, H.E.R. Volume 1 (2016) and H.E.R. Volume 2 (2017). Her identity was previously unknown as she preferred to be represented solely by her music.
Black Coffee
Black Coffee is the stage name for South African record producer and DJ, Nkosinathi Innocent Maphumulo. He has released five albums over the last two decades, most recently Sónar 25 (2018). Maphumulo received DJ Awards for "Best Deep House DJ" in both 2016 and 2017, and has collaborated with the likes of Drake and John Legend.
What is your favorite way to communicate?
My favorite way to communicate would be through music. Music has the power to communicate messages and situations. And art. I love to sit and watch or listen to a piece of art, and then I have discourse about it and see how that works in my life. I love to progress and move forward. Any conversations that move us forward, that's where I find love, and that's where I want to be.
What is your favorite book, film, and music right now?
Book: Surpassing Certainty, Janet Mock's book, one of our producers.
Movie: Call Me by Your Name because Italy is my dream place to go and then just the complexities and nuances of that story, how they let the story breathe. That was brilliant to me.
Music: I'm really feeling H.E.R. Also, I've been getting really into Black Coffee again. I guess because I'm voguing at work everyday, and it's just those house beats. And I'm also finding the New Yorker in me. There's this undercurrent of soul and merging of all different forms in that realm.
What's next?
Writing my teen fiction book about a young man finding his voice in the south—love and experience get mixed up there. Partnerships with a few organizations and whatever acting work baby Jesus has for me.