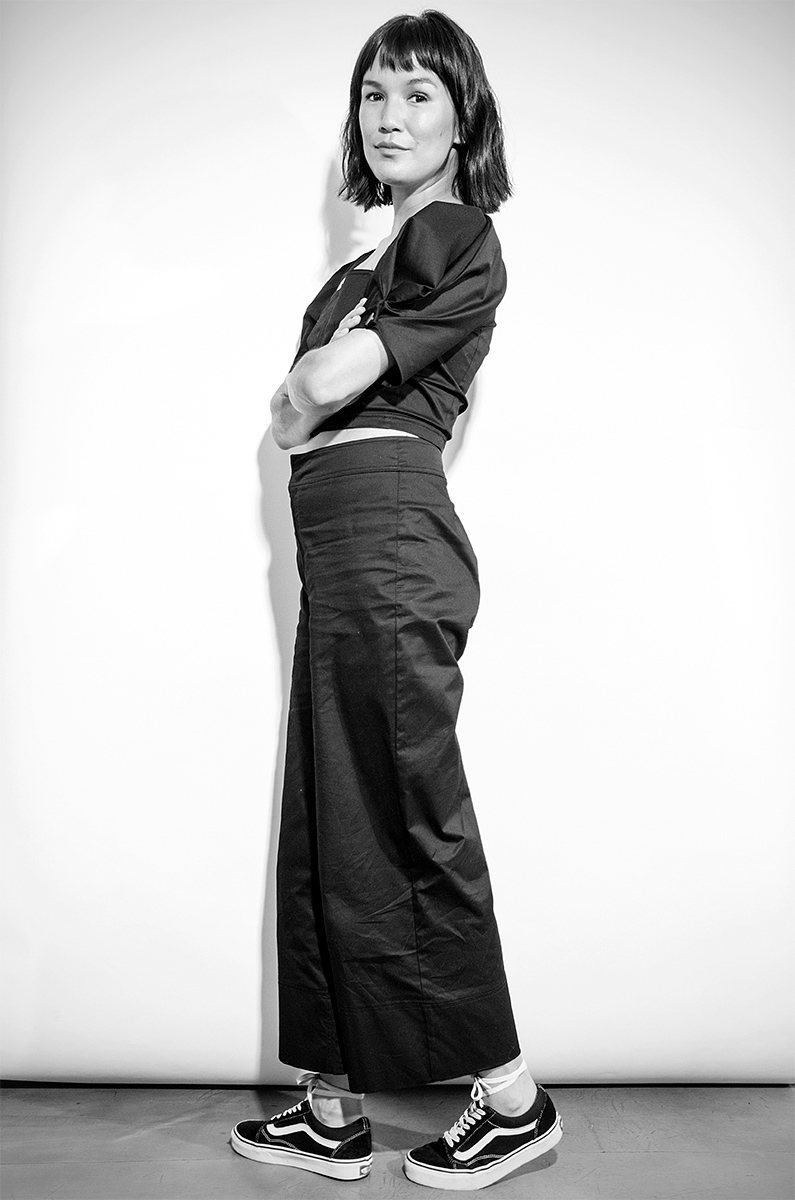 Zoë Chao
Images and Video by Jan-Willem Dikkers
"Having to reckon with other people and other ways of living is so important.
Interconnectedness leads to empathy."
— Zoë Chao
Zoë Chao
Zoë Chao is an American actress and screenwriter known for her roles in Facebook Watch series Strangers (2017-) and The Comeback (2014). She studied art history at Brown University and received her MFA in acting from UC San Diego.
Strangers
Strangers (2017-) is an American comedy-drama web television series created by Mia Lidofsky and starring Zoë Chao and Meredith Hagner. The series debuted at the Sundance Film Festival in January 2017 and was later acquired by Facebook Watch as its first scripted series.
Zoë Chao stars as a bisexual, fledgling writer in the comedy series Strangers (2017-), second season out now via Facebook Watch. Created, directed, and co-written by Mia Lidofsky of HBO's Girls (2012), the series follows Isobel (Chao), a young woman navigating new relationships and grappling with career dissatisfaction in Los Angeles. Chao will also appear in Richard Linklater's dramatic comedy Where'd You Go, Bernadette (2019), starring Cate Blanchett, Kristen Wiig, and Judy Greer. Chao discusses moving to New York from Los Angeles and the hope that Sandra Oh will win an Emmy.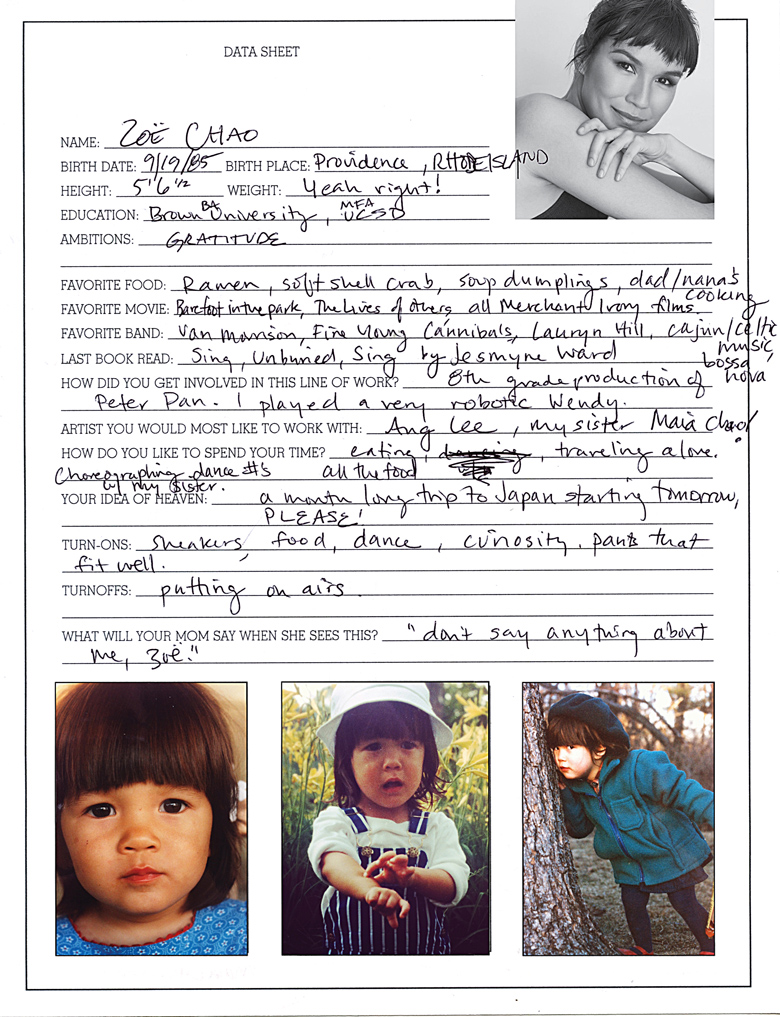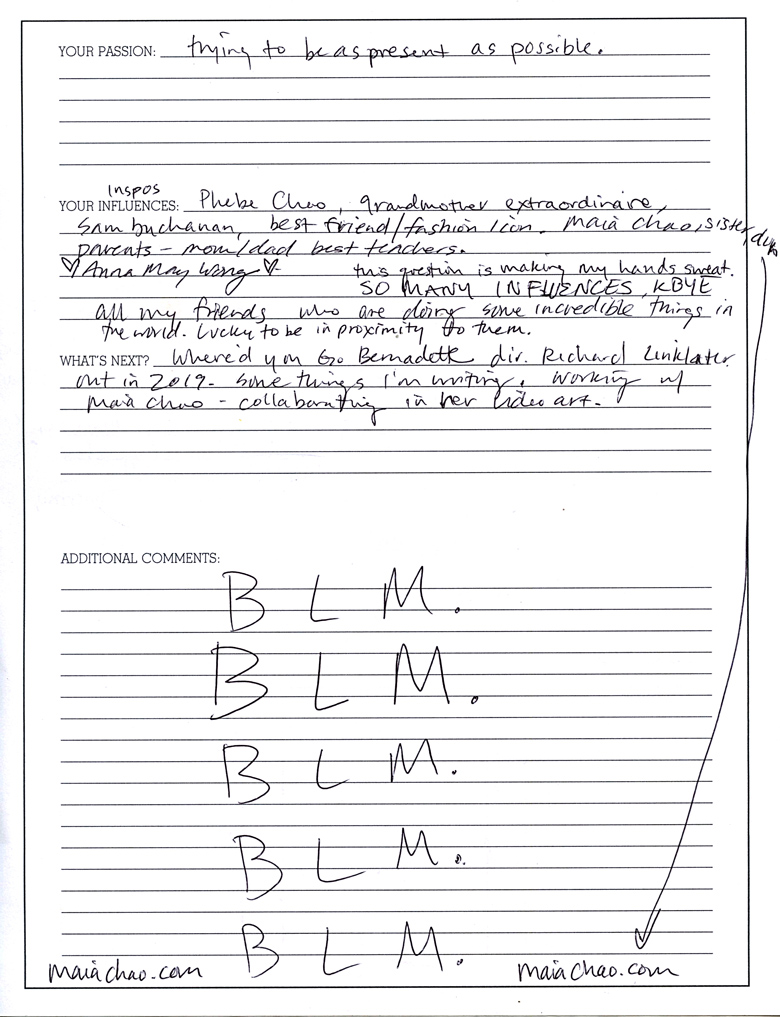 Birthplace:
Providence, Rhode Island.
Favorite food:
Ramen, soft-shell crab, soup dumplings, my dad's or my nana's cooking.
Favorite band:
Van Morrison, Fine Young Criminals, Lauren Hill, Cajun and Celtic music, bossa nova.
How do you like to spend your time?
Eating all the food, travelling alone, choreographing dance numbers with my sister.
Your idea of heaven:
A month-long trip to Japan starting tomorrow, please!
Turn-ons:
Sneakers, food, dance, curiosity, pants that fit well.
Turn-offs:
Putting on airs.
How did you get involved in this line of work?
Eighth-grade production of Peter Pan. I played a very robotic Wendy.
What will your mom say when she sees this?
"Don't say anything about me, Zoë."
Where are you from?
Providence, Rhode Island.
The Comeback
The Comeback (2014) is a comedy-drama series starring Lisa Kudrow about a sitcom actress living in modern-day Los Angeles. HBO aired the show's debut season in 2005 and a second season in 2014.
The OA
The OA (2016-) is a Netflix sci-fi drama series starring actress and show's co-creator Brit Marling as Prairie Johnson, a woman who resurfaces after having been missing for seven years.
What was your first break?
This TV show on Facebook Watch called Strangers – their first scripted comedy that my best friend wrote.
What have you been in?
I have been in The Comeback. I have a movie called Where'd You Go, Bernadette coming out next year. I'm going to be on Season 2 of The OA.
Douglas Sirk
Douglas Sirk was a German film director known for his 1950s melodramas. Film highlights include All That Heaven Allows (1955), There's Always Tomorrow (1956), and Magnificent Obsession (1954). References to his work have appeared in the films by directors Quentin Tarantino and David Lynch.
How did you decide to become an actor?
I grew up on Fred Astaire and Ginger Rogers movies. My mom liked Douglas Sirk movies, so I like old movies. That really planted the seed.
Who's your favorite actor you look up to?
I love Cary Grant and Katharine Hepburn from Bringing Up Baby. It's some of the best acting ever. I love Tilda Swinton.
What would your ideal job be?
To do a period piece where I didn't have to wear a qipao.
What advantages do you have?
A really great supportive family. They're funny and weird. I have two living grandparents and a really smart and supportive sister.
Would you rather have a car or a diploma?
Definitely a diploma. I don't have a car. I moved to New York to not have a car. I crashed three cars in six years of living in LA, two of which were PT Cruisers.
How do you feel about how interconnected the world is becoming?
It's exciting. People having to reckon with other people and other ways of living is so important. Interconnectedness leads to empathy.
What does the future look like to you?
Scary. There are things that are hopeful about it. I hope Sandra Oh wins an Emmy for Best Lead Actress. She's the first Asian-American actress to be nominated for a lead [in Killing Eve].
How do you feel about having children?
I used to think I wanted them so bad. I knew I was going to have them, and I had a feeling I would be a good mom. That said, there are a lot of variables that I would have to consider before I take the leap.
What challenges do you feel the world is facing today?
So many. Systemic racism, the prison system in our country. We have Black Lives Matter, Putin, a lot [is going on].
Sing, Unburied, Sing
Sing, Unburied, Sing is a 2017 novel by Jesmyn Ward about the dynamics of a Mississippi family. The novel won the National Book Award for Fiction and appeared on The New York Times and Time Magazine's lists for 10 Best Books of 2017.
What is your favorite book, film, and music right now?
I just read Jesmyn Ward's Sing, Unburied, Sing, which was devastating. It's so good. I loved [Jeffrey Eugenides' book] Middlesex and John Maxwell Coetzee's Disgrace.
Music: I always love Van Morrison and the Fine Young Cannibals. I think those are the tunes that I was raised on. Lauryn Hill. I really like Zydeco, Cajun, and Celtic music.
Films: Barefoot in the Park, Sense and Sensibility, any of the Merchant Ivory films. I Am Love. The Secret Lives of Others.