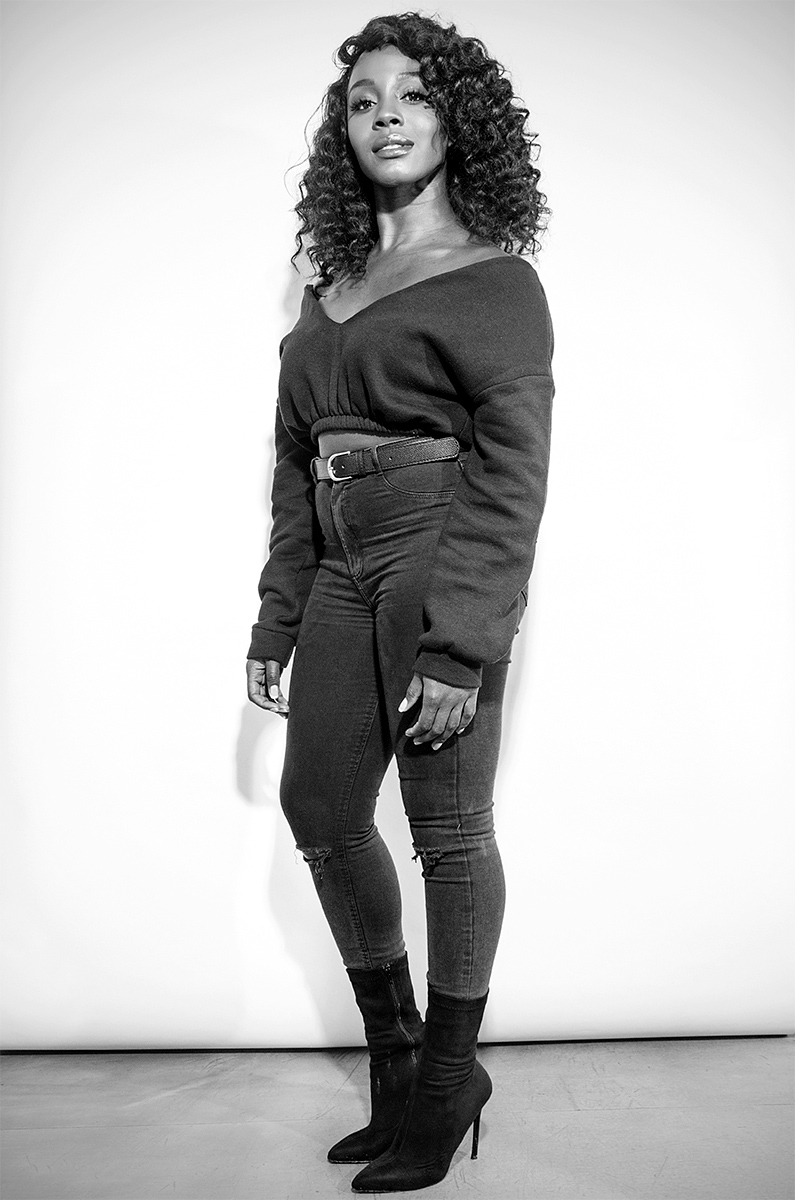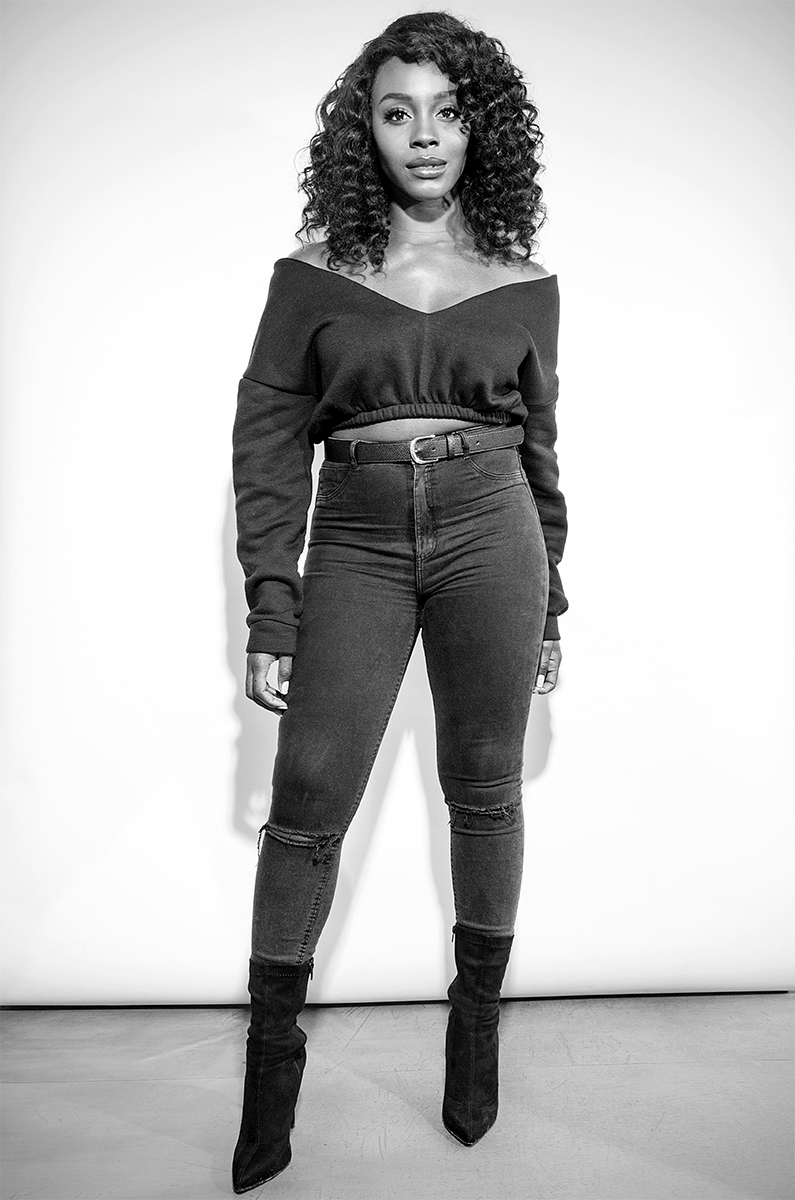 Deborah Ayorinde
Images and Video by Jan-Willem Dikkers
"I think the biggest challenge facing the world today is a lack of self-love."
— Deborah Ayorinde
DEBORAH AYORINDE
Deborah Ayorinde is a Nigerian-British actor and model based in Los Angeles. Her passion for acting began at age seven while attending drama school in London, eventually relocating to California and obtaining a BA in Film Production from Howard University, where she won the prestigious Paul Robeson Award for Best Actress and Best Cinematography in a self-directed short. Ayorinde's credits include Constantine (2005), The Affair (2014–), Sleepy Hollow (2013–2017), Game of Silence (2016) and HBO's The Wizard of Lies (2017).
LUKE CAGE
Marvel's Luke Cage, or simply Luke Cage, is an American web television series created for Netflix by Cheo Hodari Coker, based on the Marvel Comics character of the same name. Mike Colter stars as Luke Cage, a former convict with superhuman strength and unbreakable skin who now fights crime and corruption. The series is filmed in New York City, looking to replicate the unique culture and atmosphere of Harlem. All episodes of the first season premiered on September 30, 2016. Netflix canceled the series on October 19, 2018.
TRUE DETECTIVE
True Detective (2014–) is an American anthology crime drama television series created and written by Nic Pizzolatto. The series, broadcast by the premium cable network HBO in the United States, premiered on January 12, 2014. Each season of the series is structured as a disparate, self-contained narrative, employing new cast ensembles and following various sets of characters and settings. The third season was greenlit in August 2017, with Mahershala Ali cast in the lead role, and premieres early 2019.
HARRIET
Harriet (2019) is an upcoming biopic film directed by Kasi Lemmons from a screenplay by Gregory Allen Howard, based on the life of famous abolitionist and warrior Harriet Tubman who escaped slavery and led hundreds of enslaved people to freedom on the Underground Railroad. The film is set to be released in fall 2019.
Known for her work in Netflix's popular Marvel series Luke Cage, and as the "other woman" in American Comedy film Girls Trip (2017), London-born actor Deborah Ayorinde looks set to become an (almost) household name. Not only is she shooting opposite Cynthia Erivo and Janelle Monáe in Harriet (2019), a biopic of American abolitionist and political activist Harriet Tubman, she also stars in the new season of HBO's wildly-popular True Detective. She takes time out from filming to chat about her ideal role, loud chewers, and the importance of telling your own story.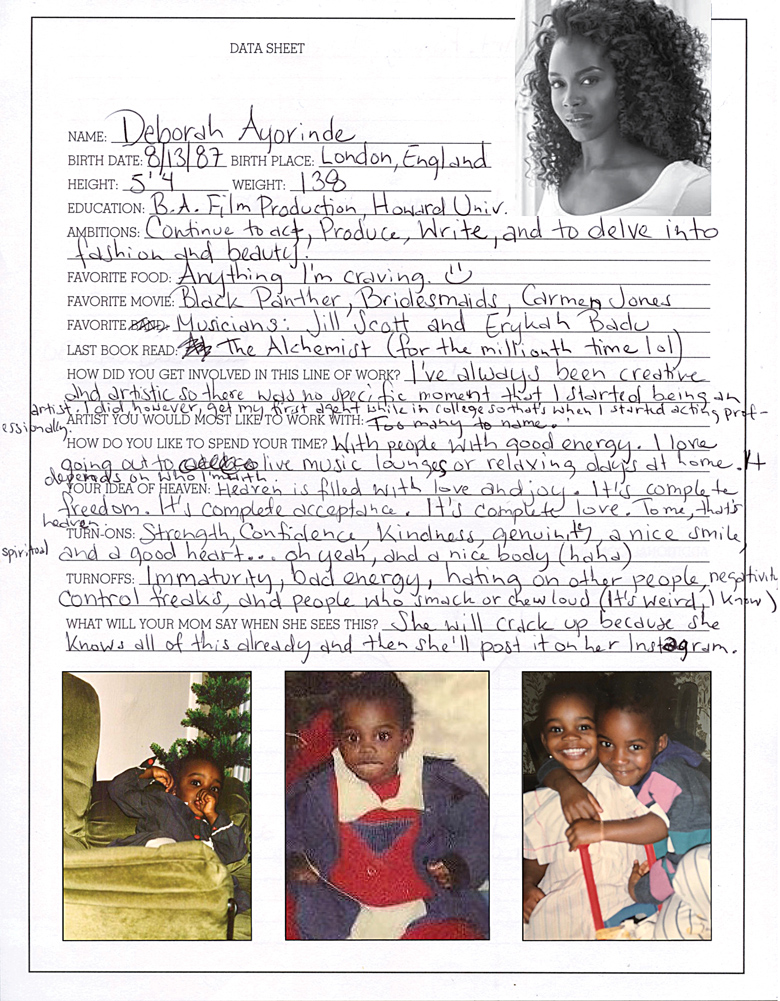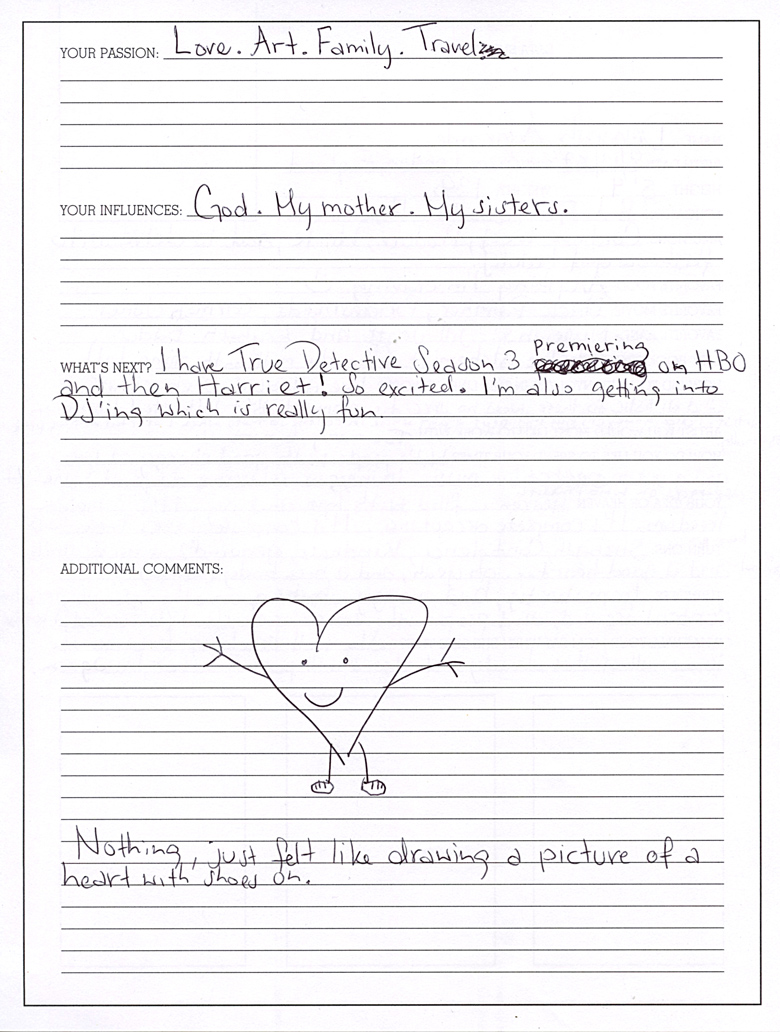 Where are you from?
I am from California by way of London.
Education:
BA in Film Production, Howard University.
Ambitions:
Continue to act, write, produce and delve into fashion and beauty.
Favorite food:
Anything I'm craving.
Favorite film:
Black Panther, Bridesmaids, Carmen Jones.
How do you like to spend your time?
With people with good energy. I love going out to live music lounges or relaxing days at home.
Favorite musicians:
Erykah Badu, Jill Scott.
Turn ons:
Strength, confidence, kindness, genuine-ness, a nice smile and a good heart…oh, and a nice body.
Turn offs:
Immaturity, Hating on other people, bad energy, control freaks, negativity, people who smack or chew loud (it's weird, I know).
What was your first break?
Well, my first role ever was on Meet the Browns but my first break was on Luke Cage.
What have you been in?
Luke Cage, Girls Trip, The Affair, I'm going back almost eleven years. A lot of stuff.
How do you feel about this career?
I feel good about it, it is really fulfilling. I feel like I'm called to do it.

"I feel good about having a career in acting, it is really fulfilling. I feel like I'm called to do it."
— Deborah Ayorinde

How did you decide to become an actor?
I don't think I decided, I think it kind of chose me.
How would you describe your specialty or type?
I am still discovering that, to be honest.
Who is your favorite actor that you look up to?
I would say, Angela Bassett.
What would your ideal job be?
I'd love to play a superhero.
Do you consider yourself to be lucky?
No, I'm blessed.
What advantages do you have?
I am in tune with my spirit.
Would you rather have a car or a diploma?
A diploma.

"I think the world's interconnectedness is good, because people can tell their own stories now rather than people who don't really know them telling it for them."
— Deborah Ayorinde

How do you feel about how interconnected the world is becoming?
I think it's good because people can tell their own stories now rather than people who don't really know them telling it for them.
What does the future look like to you?
It looks bright, really bright.
How do you feel about having children?
Yes, is the answer.

"I think the biggest challenge facing the world today is a lack of self-love."
— Deborah Ayorinde

What challenges do you feel the world is facing today?
A lack of self-love.
What are you most grateful for?
My family.
What is your favorite way to communicate.
FaceTime.
What is your favorite book film and music right now.
Book: The Alchemist (by Paulo Coelho). Film: Black Panther (2018). Music: a lot of neo soul.
What will your mom say when she sees this?
She'll crack up because she knows all this already, and then she'll post it on Instagram.